40 Beautifully Restored Rare Trucks
If it isn't obvious by now, we love trucks here. And we're not picky either. Big trucks, small trucks, old trucks, new trucks – we love 'em all. But we have a very special place in out hearts for a beautifully restored classic. It just gets us excited to see something old and breathing new life into it. Perhaps the looks, perhaps the feel, or perhaps because it's just plain cool to see. Restoration of vehicles is defined as returning the ride to its original condition or better. It's the 'or better' part that we especially love. So many of the trucks on this list and beyond have been restored to beyond their original beauty. A new-edition paint job, a brand new design of hubcap, a hefty engine, etc. are all examples of how a truck can be restored beyond its original peak condition. The trucks you'll see in this awesome list range from the 1920s all the way to the 1980s, small, large, rugged, vintage, and more. They truly are beautiful in their own right, but after the restoration, they are far more amazing.
1964 Ford F-150

Believe it or not, this 1964 Ford F-150 was originally used as a service truck for the U.S. Fish and Wildlife Service. In that occupation, a truck can get pretty beat up. But the folks who handled this restoration job did some beautiful work. The engine was rebuilt, body work was completed and the F-150 was painted its original Forest Green. An interesting fact about the 1964 edition of the F-150 (as well as the 1963) is that the bed from the 1957-1960 series was used in the 1964 F-150. The original engine was a 352 CID FE V8 which put out 208 horsepower. This right here is a beautiful truck, and it's one we'd love to get our hands on.
1966 Ford F-100
Staying in the Ford family for our second truck is a 1966 Ford F-100 pickup. It is a beautiful example of a restoration done right. The truck cab and floors are original but everything else on this machine is a rebuild. It took three years to refurbish this F-100 completely, and it is well worth the wait. It's in mint condition. The 1966 F-100 is the last edition in the fourth-generation line of Ford F-series pickups. We love the aggressive look of the red and black paint job.
1961 Ford Econoline Pickup
What is now a boxy and unattractive line of cargo vans, this 1961 Econoline pickup truck is anything but that. Introduced as part of the Econoline model line for 1961, the Ford Econoline pickup truck was based upon the cargo van. The front is nearly identical, but the back half is chopped off. The result is interesting looking, but no doubt a classic! The pickup option in the Econoline series ended after 1967, so that makes this 1961 edition, which was the first in the line by the way, that much more sought after. We love this classic truck.
1949 Dodge Power Wagon
Rugged, powerful, and dare we say it, awesome. This 1949 Dodge Power Wagon has been restored, refurbished, rebuilt – you name it! 1949 was the fourth year in the Power Wagon series. What you may notice in the image above is the doors. Rarely, if at all, will you see a 1949 Dodge Power Wagon with two doors. This truck was succeeded by the ever-present Dodge Ram. This Power Wagon is no doubt a custom job. Although it probably costs big bucks, we would love to own it.
1956 Chevrolet 3100
If you could look through the vehicle, you'll see a hodge-podge of parts from other vehicles as well. Such as a 1972 Camaro front clip, steering column, and rear end. It's got leather seats, a V8 engine and completely updated audio system. All in all, a beautiful truck.
1931 Chevy Pickup
This bad boy is rare and beautiful. It is quite a combination. This truck dates back to the Great Depression. Thankfully for our eyes, its exterior has been refurbished since then. The body and frame is original, although it was taken off during the restoration. It's got automatic transmission, tan faux-leather interior and green exterior paint. But not just any green – John Deere Green. That in itself is a treasure. There's no doubting that this old pickup is a rare find, but we just love how good it looks too.
1930 Ford Roadster
If you thought a 1931 truck would be the oldest on this list – you're mistaken! This awesome 1930 Ford Roadster is certified awesome. Not so much a pickup as the rest of them, it does still have a Brookville bed in the back of the extended cab. White interior with Corvette Nassau Blue exterior and red accents, this automatic V8-engine pickup truck is a sight to behold. The Roadster Pickup is a spinoff of the Ford Model A series, produced from 1927-1930. It's as rare as it is beautiful.
1954 Ford F100
This custom Show Truck could not be dropped any lower if even it wanted to. Just about everything in this F100 has been retooled, and we've got to say it looks awesome. Not every drop job can turn out this clean. The red exterior mixed with beige interior gives this 1954 Ford F100 a classic look. The brand new V-8 engine under the hood gives it a modern feel and sound. Given our choice between a pickup built recently and this beauty, you know which one we'd choose.
1939 Chevrolet Pickup
Completely rebuilt and completely classic, this 1939 Chevrolet Pickup is simple, clean and runs like a charm. Complete with a 235 inline 6 engine and 3 speed manual transmissions, it is rebuilt to original specs. We have to admit we are jealous. The only exception is that it's upgraded to a 12V system and electronic ignition. We just love that they decided to keep the oak bed slats; it gives it that old-timey look that is synonymous with Chevy pickups of yesteryear. Plus, the black and silver exterior is just perfect.
1937 Plymouth PT-50 Pickup Truck
Check out that hot blue exterior. That is the awesome color of paint you see on this 1937 Plymouth pickup. 1937 was the first edition of this model, and this one seen here has a rebuilt engine and power glide transmission. Also new is the paint job in addition to chrome accents and tires. This Plymouth PT-50 Pickup Truck from the late 1930s is undoubtedly the cause of envy for many of us. That's one beautiful time capsule we wished we owned.
1948 Ford F1
The first F-Series truck, which was also called the Ford Bonus-Built, was introduced in late 1947. They were a replacement for the pre-war Ford trucks. Compared to prior Ford pickups, the F-1 has a flat, one-piece windshield and integrated headlamps. It has a broader cab than prior trucks. We do not know the specific name of this paint job, teal, we suppose, but it sure is head-turning. Whoever completed this renovation did a phenomenal job, and we wish we could do something this well.
1951 Ford F-1
This classic is the first-generation Ford F-series pickup truck. It's an F-1 from 1951 which is a couple of years before Ford changed the F-1 to an F-100 (rumor has it, this was partially because of the popular F-100 Super Sabre aircraft). Anyways, the cherry-red paint is a custom job, as is much of the rest of the vehicle. The 1951 trucks were restyled with a single bar type grille and a headlight at each end of the grille bar. The grille was painted argent (silver) to complement the chrome headlight bezels. The features have been updated in this model. Whoever refurbished this beauty did one great job.
1964 Chevy C10
This is a 1964 Chevy C10 Pick Up. The restoration involved pulling the truck off the frame and doing the metalwork. After completion, the technicians sanded the car and covered it in Blue Poly Paint. Along with the paint job, they replaced the bumpers and added a new chrome grille. As for the interiors, this C10 contains a new black wood floor, side stainless lining, a black vinyl bench, and door panels. It also has A/C installed and a new Rosewood wheel. Under the hood, this truck has a 350 V8. Topping off the project, the technicians added 18" Riddler Wheels.
Custom Soviet ZIL-130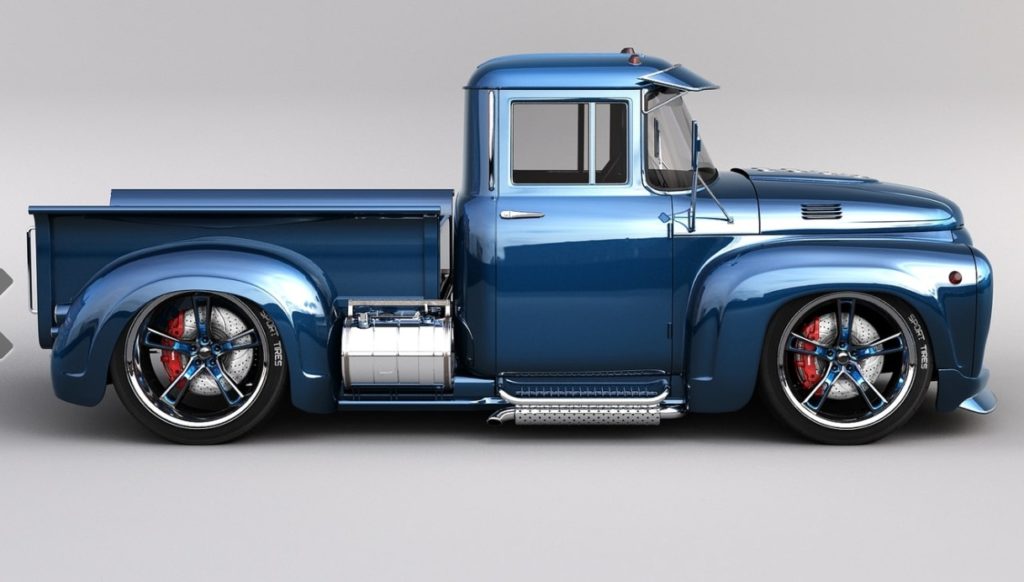 This version looks amazing, but the original truck was designed for commercial and military use and was originally powered by a ZiL-130 5.9-liter V8 petrol engine, developing 150 hp. The engine is mated to a 5-speed manual transmission. This truck was produced in large numbers and was widely used by civil and military operators. Soviets designed the ZiL-130 as a dual-purpose vehicle from the start. In case of war commercial ZiL-130 trucks could be easily pressed into military service.
1956 Chevrolet 3100 NapCo 4×4
This bad, bad machine is a totally different truck than the other 1956 Chevy 3100 on this list. This one is a 4×4 moster. NapCo (Northwestern Auto Parts Company) was a four-wheel-drive automobile parts manufacturing company founded in 1918. NapCo was bought out not long after this very truck was made, so that makes this Chevy 3100 all the more awesome. This has been refurbished to include modern interior and specs, as well as the exterior paint and chrome jobs. What excellent work on this beautiful vehicle.
1937 Chevy Pickup
Sunset Pearl. That is the beautiful hue of the color you are looking at right now. We want our bedroom painted that color. We wish every car were required to be outfitted with Sunset Pearl. We do not know how it looked before, but we liked how it turned out. This 1937 Chevrolet Pickup Truck jumps off the page with that beautiful paint job. Believe it or not, this refurbished Chevy is made up of a lot of different parts from a lot of different vehicles. But the frame is classic 1930s Chevrolet. Great work on this Chevy.
1950 Chevrolet 3100
Take a look at this truck. This 1950 Chevrolet 3100 short box pickup has many alterations such as a frame-off. Take a look at this truck. This 1950 Chevrolet 3100 short box pickup has many alterations such as a frame-off restoration, custom body modification, and interiors. It uses a Corvette 350 CI along with an automatic transmission and air ride technology. Lastly, it has new custom heaters, exhaust system, front disc brakes, and a Lokar shifter. This pickup has gone on to win many awards. Someone ultimately acquired this vehicle at an auction. Unfortunately, it was not us, but we wish we had.
1966 Chevrolet C10
Everyone should do themselves a favor and try to find another C10 like this one that is in good of shape. This 1966 Chevy C10 has been stretched to a four-door frame, painted Black and restored nearly from head to toe. The steering wheel, steering column, dashboard, bumpers, hood, grille, and drivetrain shifter are all stock. Everything else on this awesome refurbished truck is new and improved. The restoration took over a year and we sure are glad it happened because look at this beautiful machine now.
1947 Dodge Cabover COE
Cabover vehicles from the 1940s are exceptionally uncommon. The way Dodge made the frame shortened was to make it easier to transport and store. The exterior of these trucks is rock solid, and someone could easily replace the chassis with something newer. With this particular restoration, we love the yellow paint job. It also looks like the body, doors, and steps are excellent. We do not know the hour's mechanics took to finish it, but the final product looks like it came right off the lot. Indeed, anyone who sees this will be jealous.
1946 Chevy Cab-Over Truck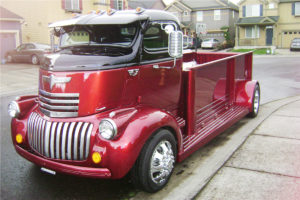 Since its completion, this custom 1946 Chevy cab-over truck has done well in local car shows, bringing home a few Best of Show awards, and a Best-in-Class Award. This truck sits on a beefed-up 1978 Chevy cube van chassis with front disc brakes and a rebuilt Dana 70 differential with new Spicer 3.73 gears.
1977 Mercedes Benz Unimog 416
This 1977 Mercedes Benz Unimog 416, painted Viper Red, is outfitted with a dump bed for extra utility. In the United States and Canada, the Unimog was sold as the Freightliner Unimog. It has myriad purposes, including military, commercial, motorsport and in this case, civilian. The cab was stripped to bare metal before undergoing a color change. The bed and wheels were sandblasted before painting, and the end result is one clean looking truck. This is one monster machine, and one that we wish we could get our hands on.
ZIL-157
This restoration mechanic built this vehicle off the chassis of a ZIL-157. In the Soviet Union, the Lichachev plant made the ZIL-157 from 1958 to 1977. The primary function of the truck was for the red army, but it was uncommon for companies to use them, and they were particularly popular with forestry companies. Whoever built this custom restoration created two versions called "Baikal," which came equipped with a Chevrolet 7.4 Vortec V8 and automatic transmission GM Th200. The second vehicle, named "Taiga," has a Jeep V8 Magnum with automatic transmission Jeep ZJ. We also like the new paint job.
1958 Chevrolet Apache NapCo 4×4
In 1958, Chevy changed some things. All light-duty trucks are now called "Apache," medium-duty trucks called "Viking," and heavy-duty trucks called "Spartan." However, this is not the standard Apache pickup, and there is a little something more going on under the hood. This pickup truck is one of the rare ones with the NAPCO Power-Pak conversion – which is most noticeable in the body of the truck bed. It's a beautiful truck without the conversion, but with it this 1958 gem looks even better.
1940 1/2 Ton Ford Pickup
Refurbished from head to toe, this 1940 1/2 ton pickup truck is in perfect condition. The exterior couldn't be in better condition and the Titanium Green Metallic paint job is stunning. 1940 started a trend for Ford where the trucks began to style similar to Ford's other cars. But the main difference was the monster original engines: two flathead V-8 engines: a 136-cubic-inch 60-horsepower unit. The truck you see here looks nothing like the one produced back in 1940, but we're thankful for that because it's beautiful how it is today.
1938 Ford Pickup Truck
Speaking of pre-war Ford pickup trucks, here's a beautifully restored 1938 Ford pickup. Ford pickup trucks were fitted with a new cab in 1938, front-end sheet metal, and bed. We like the maroon paint job. It gives it a more regal look. The debut of a truck that slotted between the light-duty car-based pickup and the heavy-duty 11/2-ton models was an increased attraction. The 1938 model weighed one ton, and was appropriately called the "One-Tonner." The restoration on this One-Tonner is perfect.
 1946 Dodge Power Wagon
This beautiful 1946 Dodge Power Wagon Crew Cab was just sold to a new owner. The listing price is a cool $259,950. This is one of Truck Trend's top SEMA builds. An SRT8 Hemi vehicle with a Whipple Supercharger powers the vehicle. It puts out 575HP at the AXLE and over 650 at the motor. It was built as a display for Maxxis Tires. While not a faithful restoration, enough customization brings this car up to snuff for everyday driving. We think it looks and handles fantastically.
1962 GMC Crew Cab
Now this is special. Allegedly, this is the only one like this left in the United States. It's one-of-a-kind but it's not custom. There were only six of these workhorses back in 1962, and it looks nearly the same now as it did then. The differences are a new paint job, wheels, tires, and other small items. Definitely, a unique-looking vehicle that people do not see every day. If we did not find this information, we would have never known it was a factory-made vehicle. This is one rare, re-tooled truck! What a beauty.
1929 Ford Model A Pickup Truck
This is the second Model A on this list, and the more conventional of the two. Mainly because it still has a full cab on it. The 1929 Model A has several varieties of pickup truck. Though we don't think you can go wrong with any. Here are a couple: Roadster Pickup, Deluxe Service Pickup, Deluxe Pickup, and this one, the standard Pickup model. This one is painted a dark metallic blue, and we think it is a pretty clean ride. A really excellent restoration project right here.
1950 Chevrolet 3800 One Ton Flatbed
It was a workman's vehicle back then, and it is a workman's vehicle now. Even after a well-done restoration, this black one-ton flatbed workhorse has a clear purpose. To get the job done.  There is a reason it is considered a classic. Many restorations are done for show or dough, but this one seems clearly planted on the opposite side of the fence. We think the owner completed the vehicle for self-satisfaction, and a well-done job, no doubt. We definitely would want this truck in our collection.
1929 Ford Model A Pickup Truck
This is the second Model A on this list, and the more conventional of the two. Mainly because it still has a full cab on it. The 1929 Model A has several varieties of pickup truck. Though we don't think you can go wrong with any. Here are a couple: Roadster Pickup, Deluxe Service Pickup, Deluxe Pickup, and this one, the standard Pickup model. This one is painted a dark metallic blue, and we think it is a pretty clean ride. A really excellent restoration project right here.
1924 Ford Model TT
1924 was a big year for Ford pickup trucks. Before 1924, all Ford pickups were sold with what's called an 'open-cab'. Basically it was a rolling chassis and Ford left the bed work up to the buyer or third parties. But this truck seen here, the 1924 model was the first Ford truck to come with the bed attached. And this specific one has been restored beautifully. We could not think of a better truck to have on our list.
1929 Ford Model A Woody Wagon
A group in Atlanta beautifully restored this truck. It is a 1929 Ford Model A Woody Wagon, and it's is a very rare piece of history. The exterior of this Woody Wagon is super clean, with a classic, natural shade of Beige. The Maple and Birch paneling makes this Ford look like a time machine that jumped straight out of the days of President Calvin Coolidge into modern times. We think this is a beautifully restored truck/station wagon. Anyone would be lucky to have this one.
1940 Plymouth Pickup
This Green & Yellow tribute to John Deere classic colors is actually rebuilt on a 1991 Dodge Dakota chassis. If you've never seen a Plymouth pickup truck before, it's okay. They didn't last too long, and at the time, weren't received very well by the public. The first of Plymouth's first two forays into trucks lasted from 1937-1940. They tried again later in the 1970s as well. That only makes this awesome piece of machinery that much more rare – add that to the beautiful restoration job and you've got one awesome, rare truck.
1941 Willy's W23 Pickup
Now this is a treat. With a brand new General Motors ZZ3 350CID V8 engine under the hood, Ferrari-red paint job, custom wooden bed and completely retooled interior – this beautiful 1941 Willy's W23 Pickup truck is one sweet ride. While known primarily for their Jeep-style trucks, Willys pickup history is a bit of a mystery. This particular model has a four-wheel drive. We think this is a rare piece of machinery that is just beautiful. Great work on the restoration; very eye-catching. We wouldn't mind driving this stunner.
1942 Chevrolet AK
This beauty comes to us from Gateway Classic Cars in Philadelphia. The Chevrolet AK Series truck was a light duty truck sold under the Chevrolet brand. Production on the AK series began in 1941 and only lasted until 1947. Due to World War II, there was no production of the AK trucks for the public in 1942. All trucks were designed strictly for military use. This 1942 AK is one of those trucks. It's got a TON of power and might under the hood and frame, and the fact that it wasn't commercially available makes it quite rare.
1950 Chevrolet Truck
Professionally refurbished, this 5-window 1950 Chevrolet Truck features a chassis engineered by Streamline; consisting of a 1968 Camaro sub-frame with quick ratio steering, 4 link rear suspension and 12 bolt rear end. Its exterior is simple Gray and its interior color is called Distressed Luggage. Additional exterior features include custom rear bumper and roll pan, with fuel tank moved to underside of the bed. The 1950 Chevrolet Truck is one of the all-time classic looks, and the folks who refurbished this one did an exceptional job.
1946 Studebaker M5 Pickup
This 1946 Studebaker M5 1/2-ton pickup truck is restored to mint condition. The Champion 169 ci. I6 engine is still under the hood, but has been completely restored. Studebaker began production on its trucks in 1940 and several versions were used across Europe and Russia during World War II. This one here is painted Deep Navy and has a custom, new bed in the back. We could not fathom how much work went into this beauty. It looks like it drove right off the lot. We could look at this truck all day.
1947 Dodge WD21
This 1947 Dodge WD21 restoration job has 45,300 miles on the truck even though it has been around for nearly 75 years. The restoration gave the truck a stop-and-stare look with the fresh coat of Blue and Black paint. It really makes the truck pop. The wooden panel bed received extra care to make the wood look like it was still back in the 1940s. From head to toe, this old truck looks simply great. This is a restoration we would not mind owning. Imagine if someone's friends at the hardware store saw them pull up with this truck.
1947 Chevrolet 3800
This is a workhorse, no doubt about it. The '47 Chevy 3800 received a complete frame-off restoration, and it was excellently done, no doubt about that. The truck has a 9-foot bed, and the owner painted it with a lovely Butternut Yellow. Most of the Chevy 3800's you could find are rusted-out pieces of junk beyond repair. It is a shame how many nice trucks we have lost over the years due to negligence. But we are glad this piece of beauty and history is in good shape.
1948 Ford F6 COE Ramptruck
Look out. This is a lot of truck! The 1948 Ford F6 Ramptruck is one of the last of its kind that's still on the roads. Tuxedo black and completely restored from the ground up, this Ramptruck turns heads (and probably even bodies) everywhere it goes. Here is the best part of this restoration; it has got a 140-decibel train horn attached. If no one could see or hear this truck before, they can now for sure. This is such an amazing restoration of this massive truck.
1948 Ford Pickup/Rat Rod
This is just fun. This 1948 custom job has a lot going on. The rat rod is hard not to notice in any environment, but especially on this list of traditional pickups. This custom car definitely has a unique design. Satin green sets the tone on the body, and the pops of red create the 'Wow' moment. This custom job gave what was otherwise an ordinary 1948 pickup new life in the best way. We love it; a one-of-a-kind vehicle for sure.
1948 Ford F100 Panel Truck
This is another fun one people don't see ever day. This restoration-turned-renovation is a complete custom job with Mustang parts, Corvette parts, and several other vehicle parts as part of this finished project. It also has a beautiful plum color is a unique choice. The actual color is called a DuPont Hawaiian Orchid, obviously. With the in-depth restoration of this F100 Panel Truck, an in-depth paint scheme is just as necessary. What a cool truck to look at and probably a more fun one to drive.
1949 GMC 3/4 Ton FC152
Woah. We're on a roll with the outlandish trucks now. This one is as rare as it is fun to stare at. Obviously, the exterior paint scheme is the first thing that stands out (Bronze Firemist.) It is definitely a unique custom vehicle. However, look deeper at this truck and you will see some excellent workmanship. This truck underwent an extensive four-year, frame-off restoration and the finished product is stunning. We'd love to drive this copper knockout.  When people see this truck down the road, their eyes will be treated to classiest truck on the road.
1950 Ford F4 Flatbed
Okay, enough of the crazy stuff – back to the basics. And the basics are beautiful, especially in this 1950 Ford F4 Flatbed. Restored only minimally, mainly the engine and exterior aesthetics, this F4 still has original fenders, hood, doors, cab, running boards and chassis. The aggressive red and black paint scheme look perfect on this machine built for the long haul. Definitely a real stand out. There is nothing wrong with going back to basics. We love this restoration job on such a classic truck.
1954 Ford F100
Of all the Ford F100's on this list, this has to be an eye-turning paint job. It's a lot to take in, but once your eyes are adjusted to the orange/red/flame gradient, you'll begin to notice how well-done this restoration is. But what you won't notice at first is what this thing is packing under the hood. A massive 468 CID V8 engine with an equally massive blower is engineered to fit under the tilt hood, turning this classic truck into a street racer.
1955 GMC Tow Truck
Here is a truck to tow all the other trucks on this list. The excellently-done restoration job on this tow-truck makes turned this work-only into a work-and-play vehicle. The Sky Blue paint job is a classic. Maybe we will purposely call to get our car towed to see this fantastic vehicle. This truck went through a fantastic frame-on complete restoration which the owner carefully performed. Under the hood includes the in-line six-cylinder motor. We see a lot of work in this vehicle, and we appreciate the photos. What an absolute beauty.
1940 Ford 1/2 Ton Pickup Truck
This is our second 1940 1/2 Pickup Truck on this list, and there's good reason. It's gorgeous! The Ice Blue paint job is immaculate on this refurbished time capsule. This image was captured at the 2006 Del Mar auto show. As a result there is no telling what kind of condition this vehicle is in today. But we hope it's just as good-looking as it is in this photo. Ice Blue is one excellent paint color for a pickup truck.
1965 Chevrolet P10
We have to go out with a bang! Yes, this truck/van is real and yes, it moves. What you're looking at is a custom Mint Green 1956 Chevrolet P10. It's quite different than the rest of the trucks on this list, but it's also pretty rare. This was definitely created with show in mind, and it does not disappoint. The engine is original but mostly everything else has been retooled one way or another. We think it looks great. They should be proud of this restoration. What a sight.