Only in Florida! Funny Photos From Florida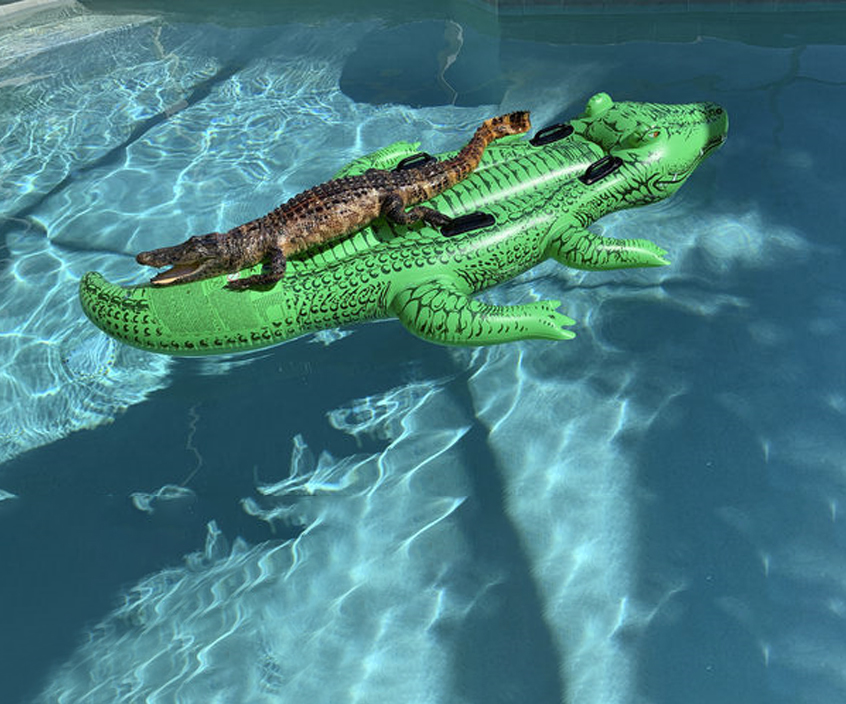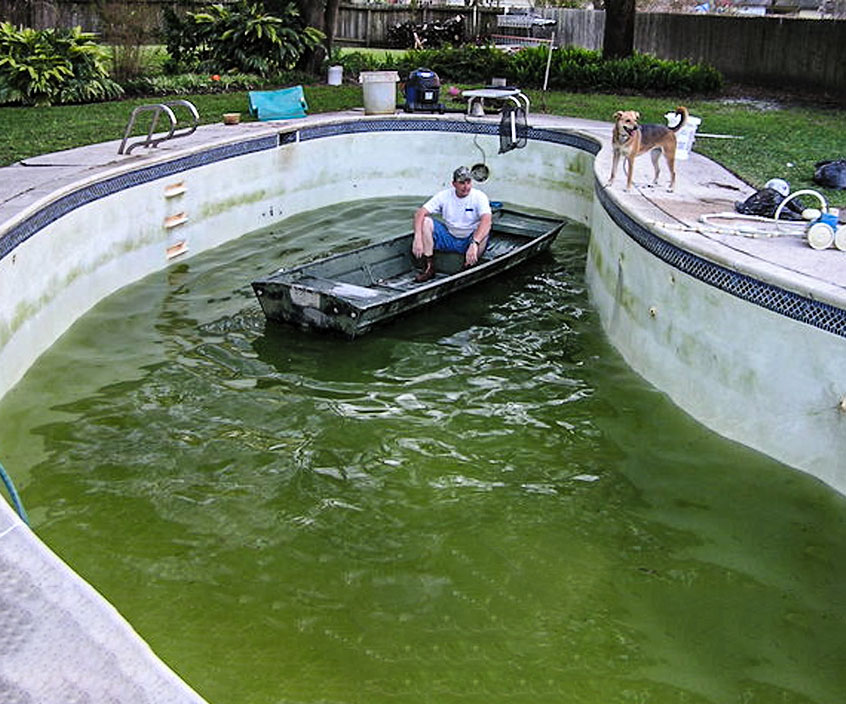 In a survey from 2006, Florida County Property Appraisers found an estimated 1.1 million total residential swimming pools existing in Florida.
Interesting Florida Fact: As of 2020, Florida has the highest number of registered recreational vessels at almost 959 thousand.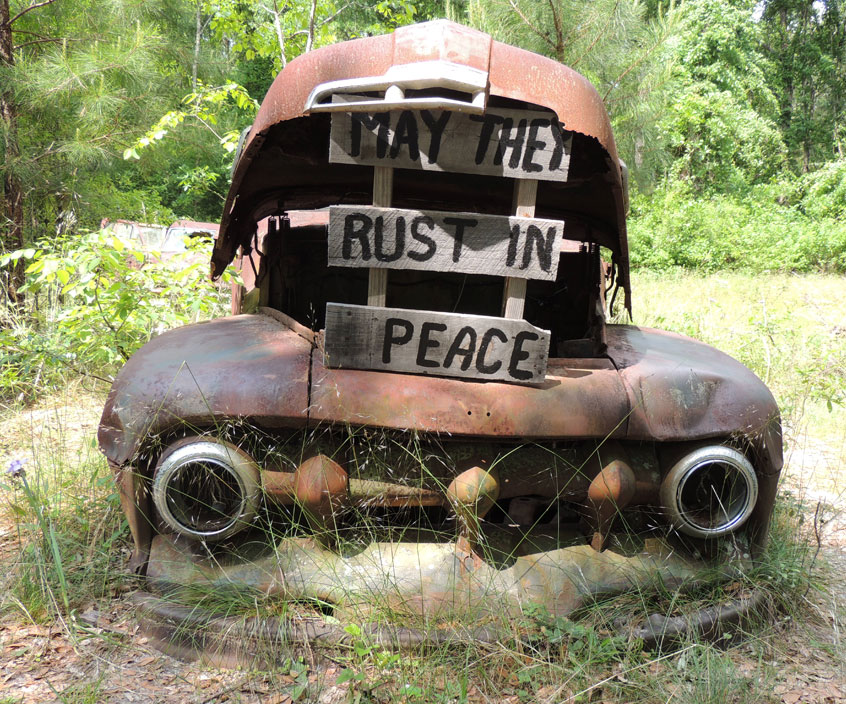 This picture is from Harvey's Historic Truck Display in Crawfordsville, Florida, sitting on the roadside on Highway 319. The trucks are arranged from oldest to newest by owner Pat Harvey.
Interesting Florida Fact: U.S. Route 98 runs 671 miles from the Alabama-Florida state line all the way down to southern Florida. It is Florida's longest road.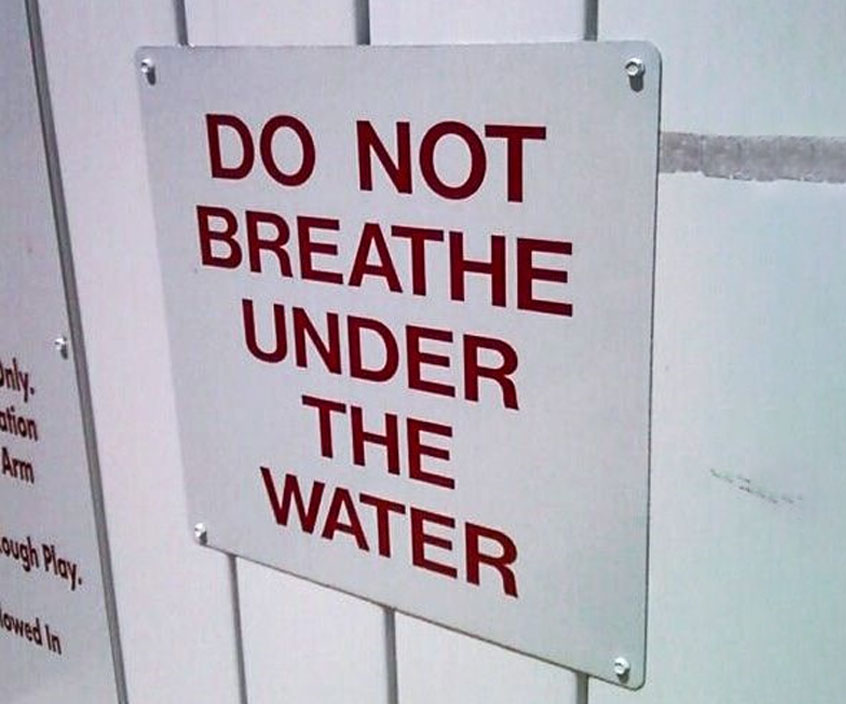 According to the Diving Equipment and Marketing Association, scuba diving in Florida accounts for 4.56 million visitor-days per year. So oddly, the data points to a lot of people wanting to breathe underwater.
Interesting Florida Fact: Florida is one of the top tourist spots in the world. In 2019, the state pulled in a record 131.42 million tourists.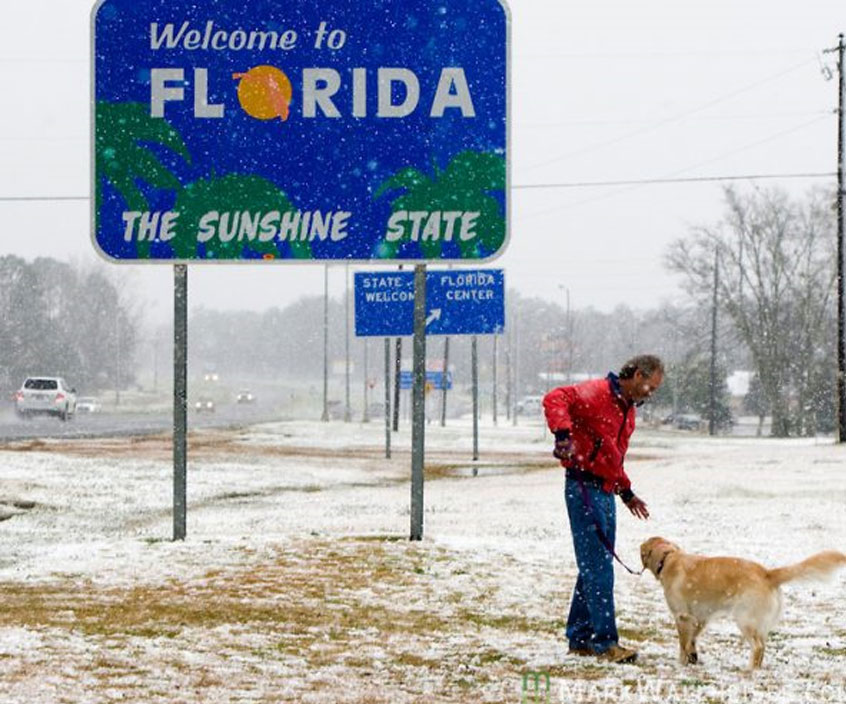 On Jan. 19, 1977, Florida was hit with an arctic blast. Snow fell in South Florida for the first time in recorded history. There were reports of 2 inches of snow in Orlando, Lakeland and Plant City.
Interesting Florida Fact: Snowfall is generally rare in Florida due to the state's low latitude and subtropical climate.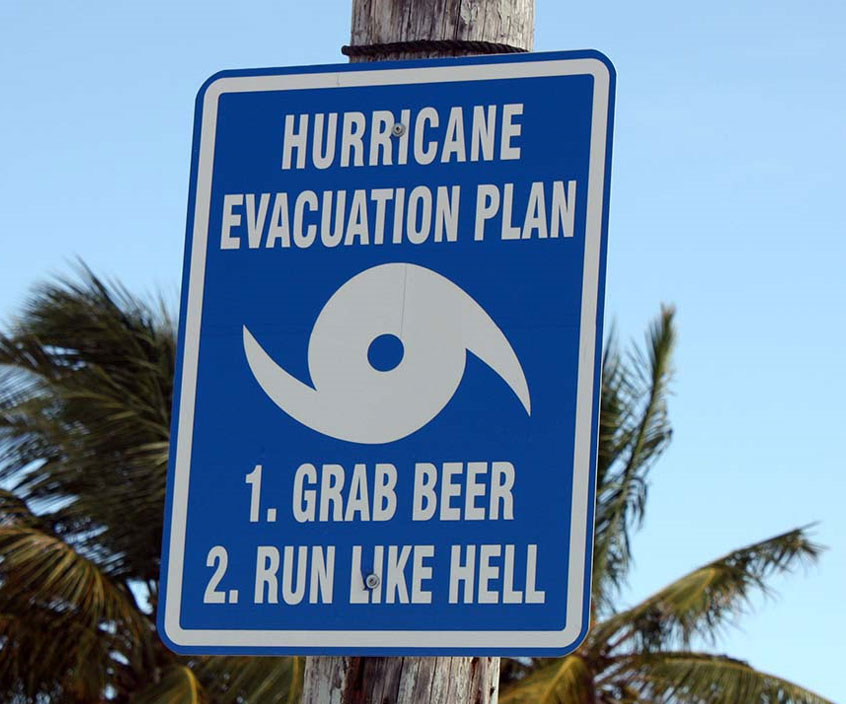 According to a 2016 article from the Daily Meal, the best-selling beer in Florida is Bud Light. Other popular beers in the state include Pabst Blue Ribbon and artisanal beers such as Double Barrel Aged and Morning Wood.
Interesting Florida Fact: Wine grapes were grown in Florida before anywhere else in the United States. 16th-century Spanish missionaries planted them first.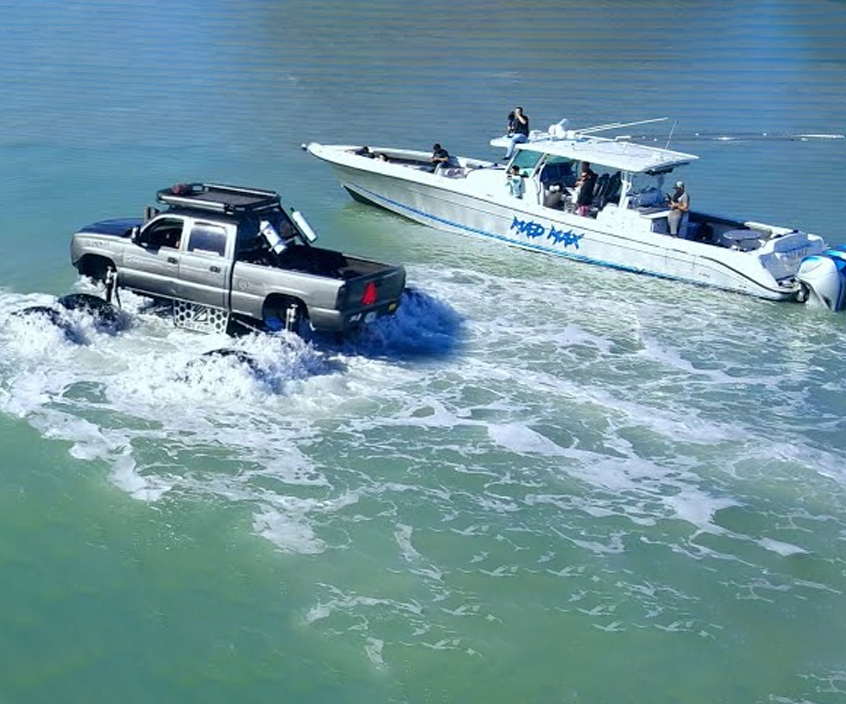 Cody Detwiler and his team at WhistlinDiesel took this truck down to Florida. It's called Monstermax and is an 8-wheel, double-axis vehicle which sits on 36-inch tires. The team had a successful voyage in the Atlantic Ocean between Longboat Key and Bradenton Beach.
Interesting Florida Fact: Florida has 825 miles of sandy beaches.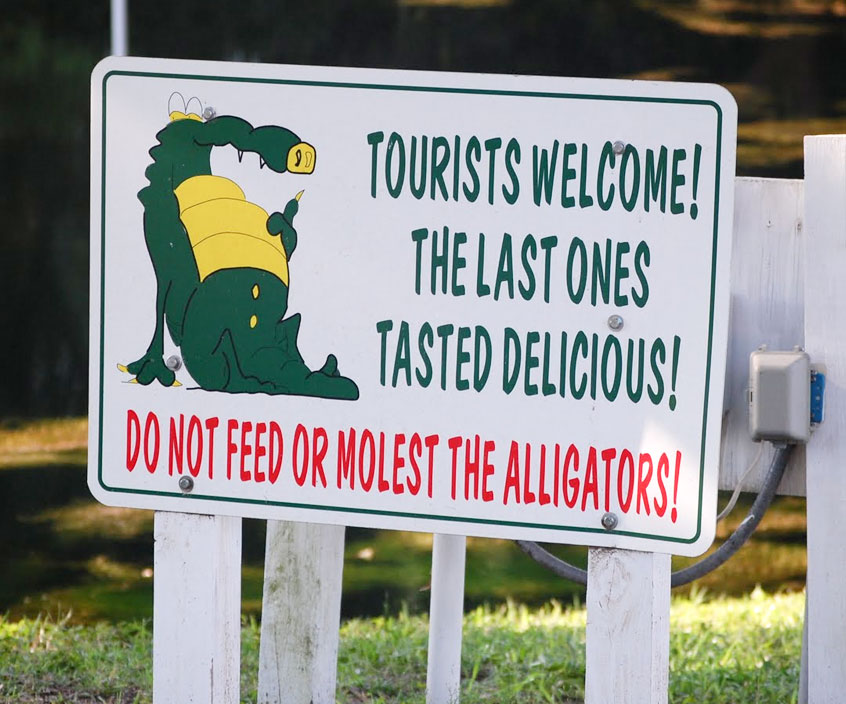 Around 1.25 million alligators live in Florida, so be careful where you walk.
Interesting Florida Fact: The Endangered Species Act of 1973 listed American Alligators as endangered. After some conservation effort, Alligators were removed from the endangered species list in 1987 and are currently ranked as least concern by the International Union for Conservation of Nature.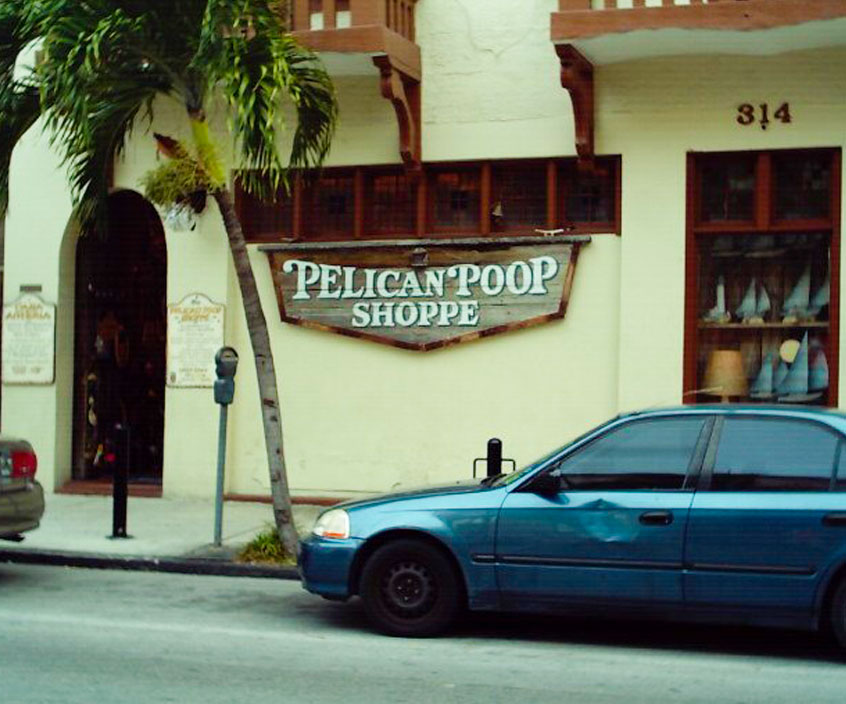 The Pelican Poop Shoppe was a souvenir gift shop in Key West. They had a lot of trinkets and ornaments as well as prints by local artists. At some point, they seemed to have permanently closed their doors.
Interesting Florida Fact: Some of Salvador Dali's masterworks are housed at the Dali Museum in St. Petersburg, which has 18-inch concrete walls to protect the art.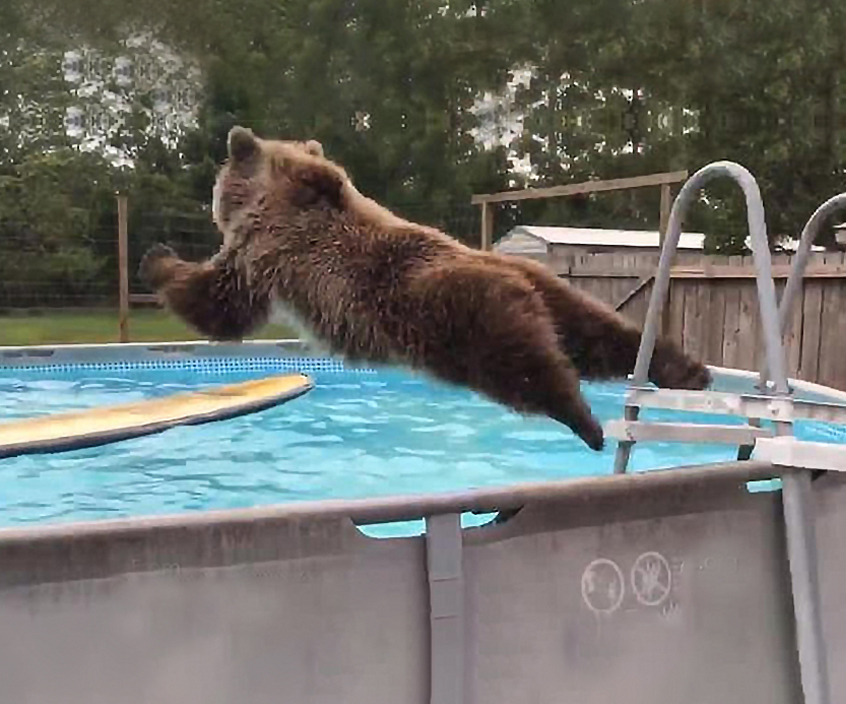 In June 2015, a 600-pound grizzly bear at the Single Vision wildlife sanctuary in Melrose, Florida, climbed up a ladder and belly-flopped in this pool. The temperature got up to 90F that month, so we can't blame it for taking a dip.
Interesting Florida Fact: The only bear native to Florida is the Florida black bear (a subspecies of the American black bear). They live throughout the state, with the FWC estimating a population of 4,050 statewide.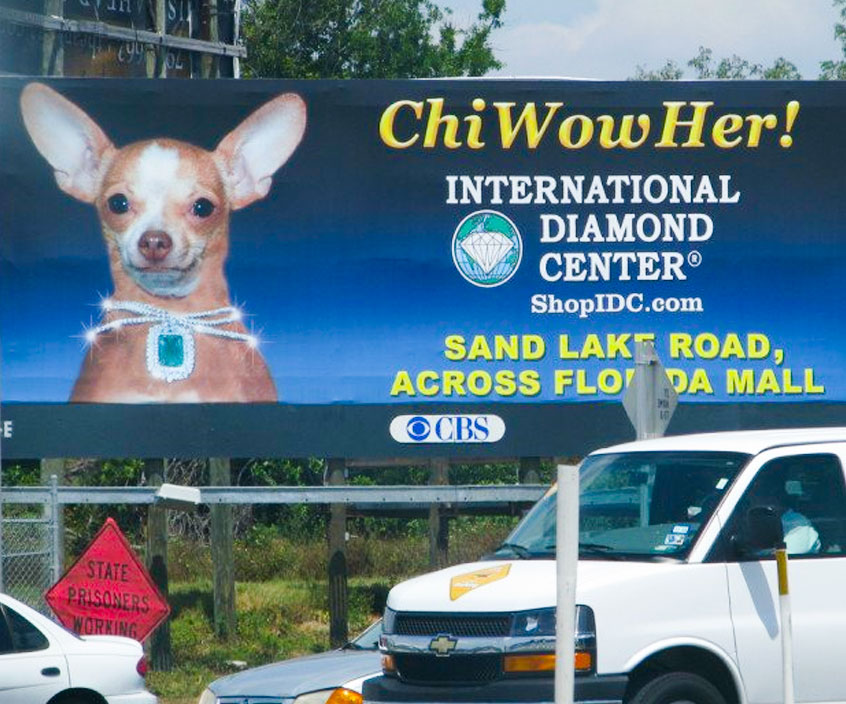 We don't think this is the cleverest pun for a jewelry store, but it's still a fun billboard sign nevertheless.
Interesting Florida Fact: Sanibel and Captiva near Forty Myers have garnered the title as the Seashell Capital of the World.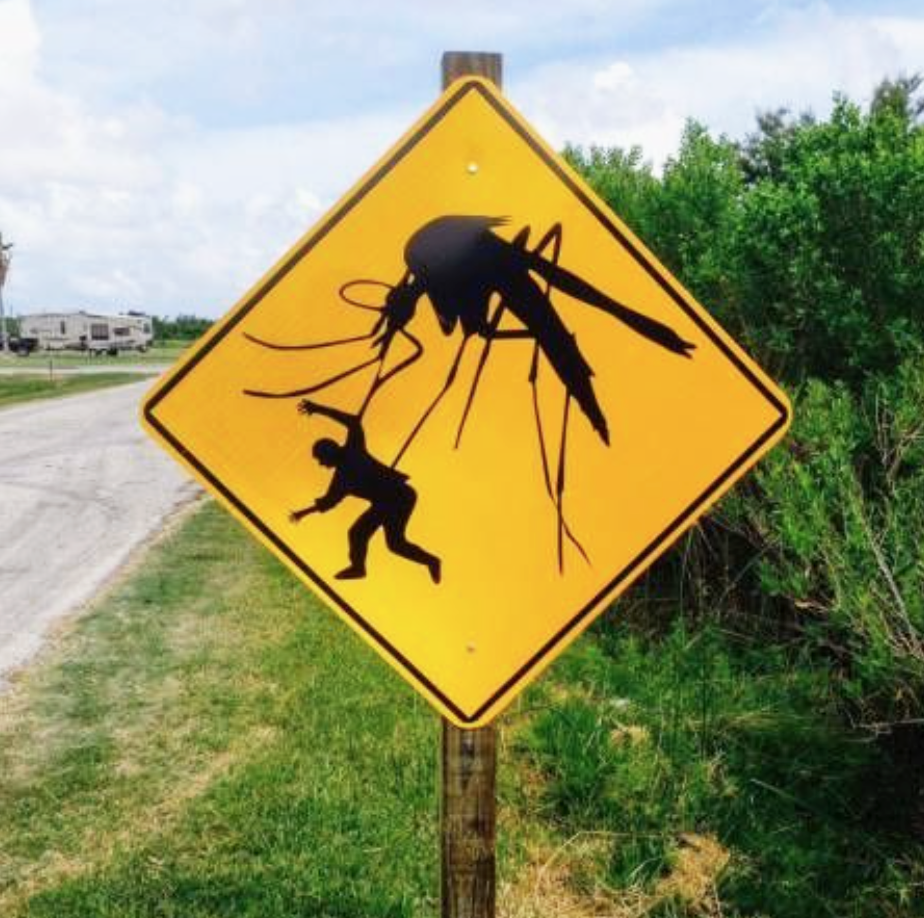 We know mosquitos got big in the everglades, but things must be really getting out of hand.
Interesting Florida Fact: Florida is home to 80 known species of mosquitoes.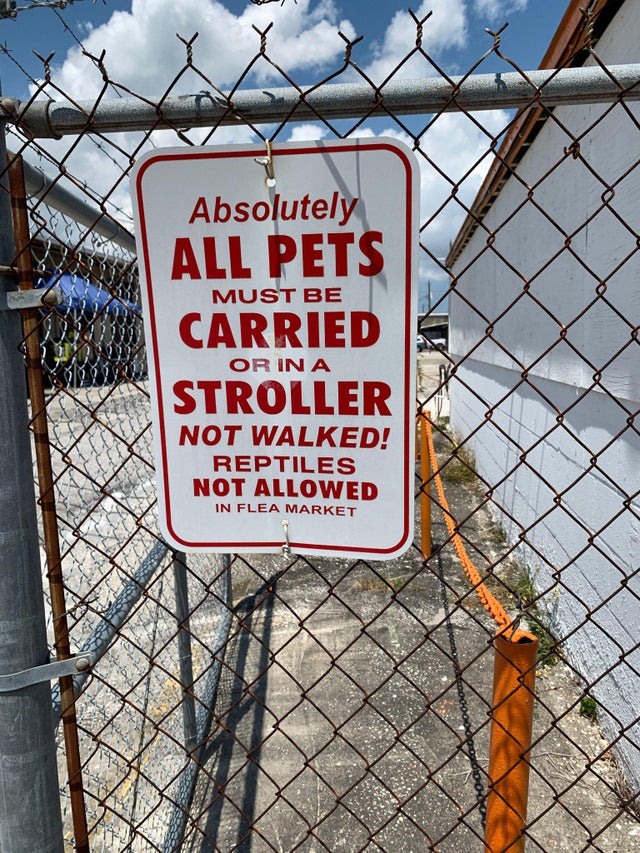 Only in Florida would you see signs like this at the flea market. I guess if you have a pet alligator, you are out of luck.
Interesting Florida Fact: Researchers determined that around 142 native and 56 nonnative species of amphibians and reptiles live in Florida.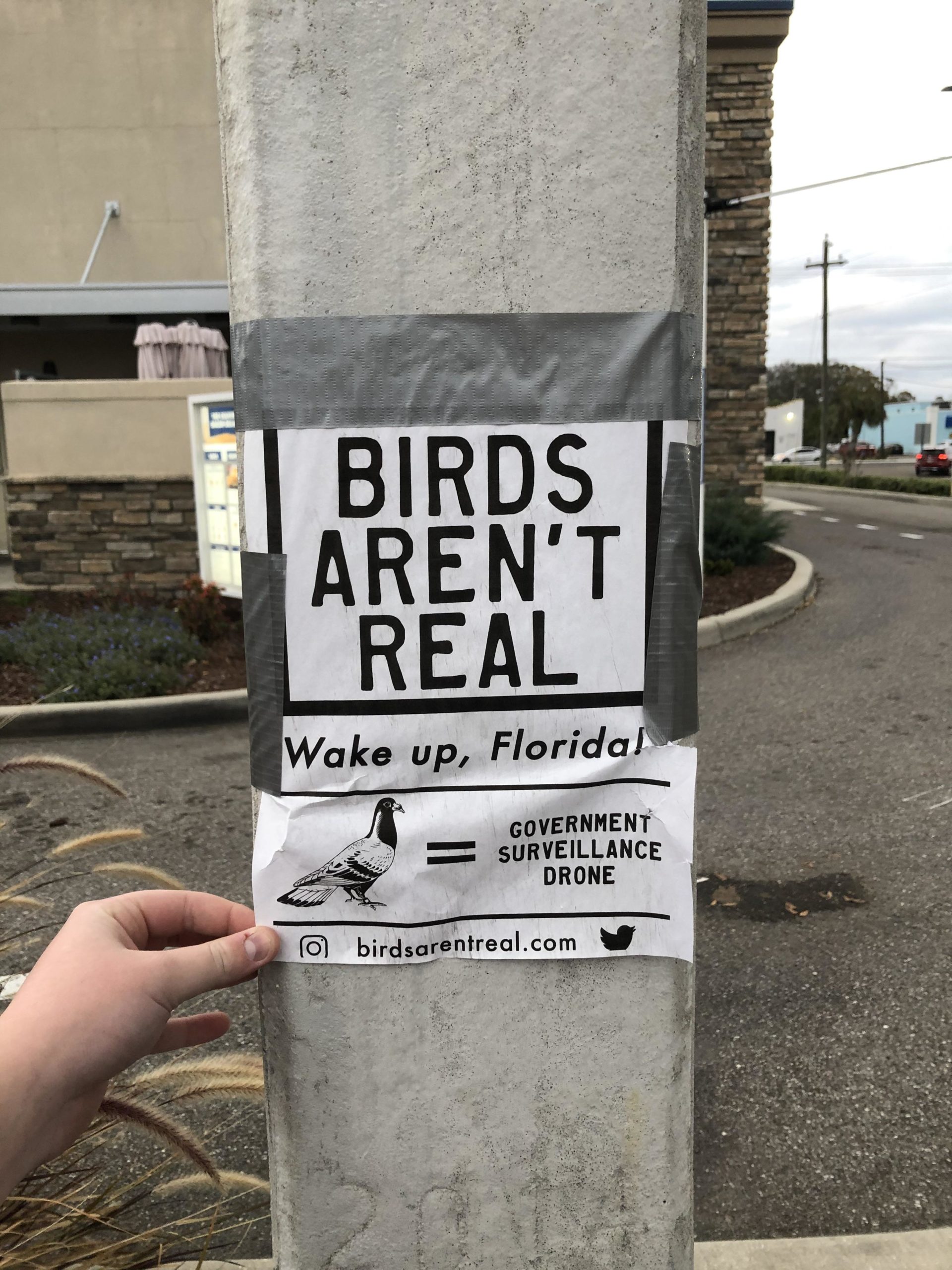 Birds aren't real. Wake up, Florida!
Interesting Florida Fact: Floridians adopted their current flag in 1900.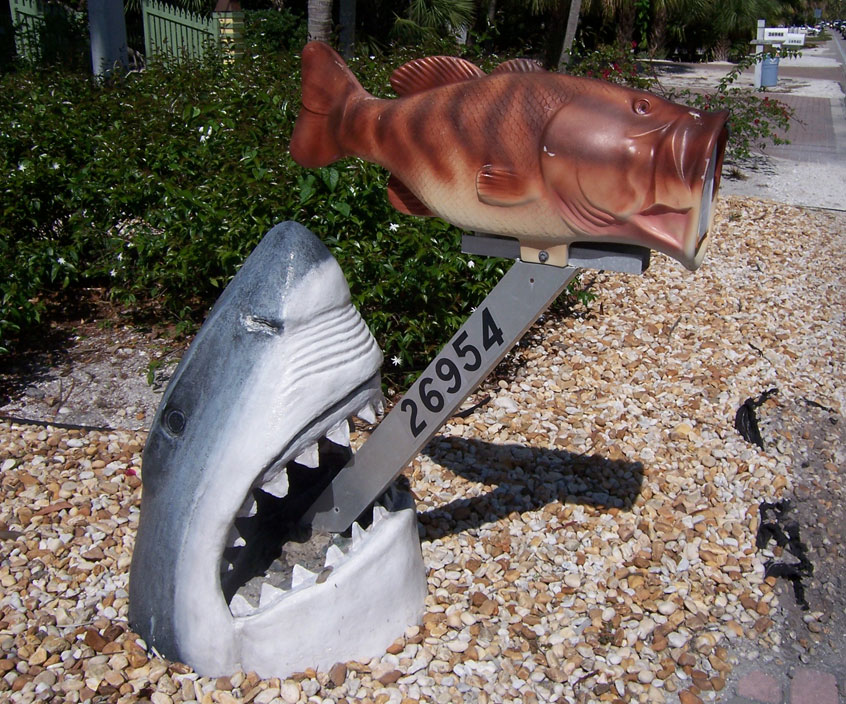 Have you ever seen a shark mailbox? In Florida, you may spot one. Despite not being usual, we wouldn't say it feels out of place in the state.
Interesting Florida Fact: According to the National Sea Grant Library, Florida's most common sharks include the blacktip shark, spinner shark, sandbar shark, blacknose shark, nurse shark, lemon shark, sharpnose shark, scalloped hammerhead shark, and bonnethead shark.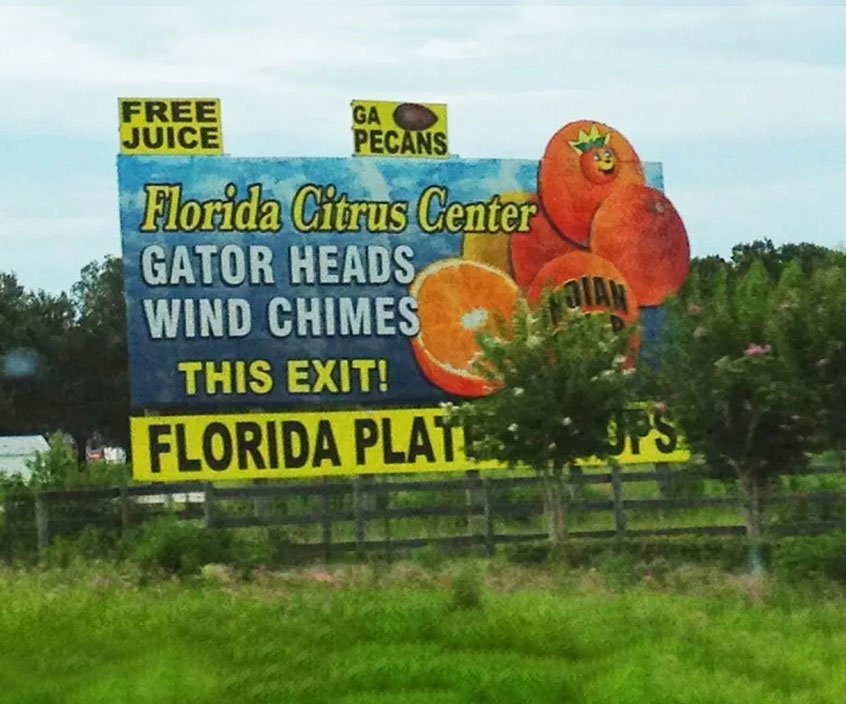 According to the Florida Department of Agriculture and Consumer Services, Florida ranked first in 2019 in the value of production for bell peppers, grapefruit, oranges, sugarcane, fresh market tomatoes, and watermelons. We imagine it ranks pretty high for alligator heads and wind chimes too!
Interesting Florida Fact: The Sunshine State has over 387,00 acres of commercial citrus groves. In 2019, they produced 77 million boxes of citrus fruit.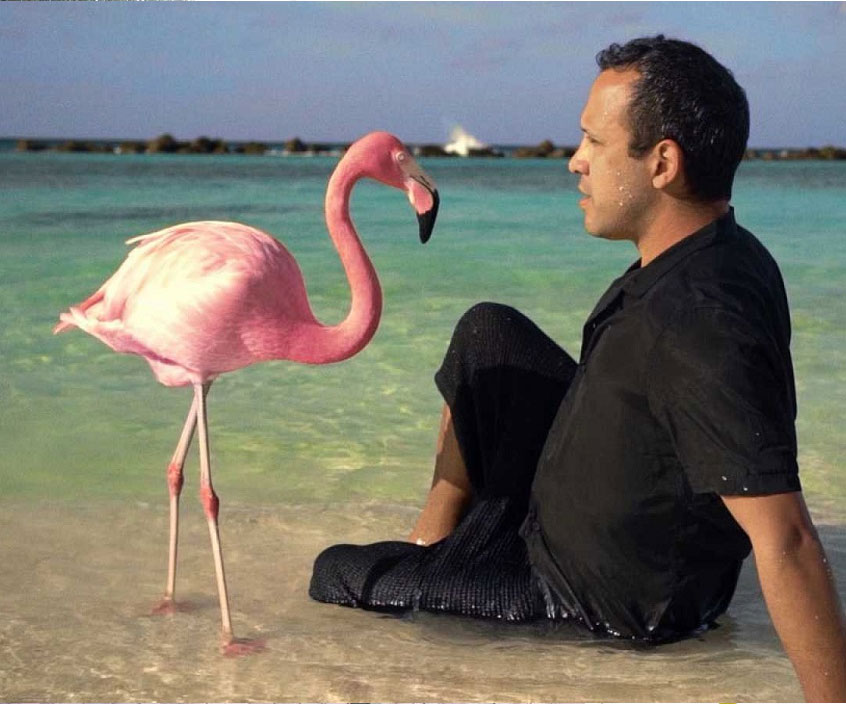 For a while, the general consensus was that Flamingos were not native to Florida, but a study published in The Condor: Ornithological Applications may suggest otherwise. The authors used satellite trackers and aerial surveys to look at Flamingos flight patterns and a slew of historical evidence and references to the bird living in the state in the past.
Interesting Florida Fact: Florida's state bird is the mockingbird.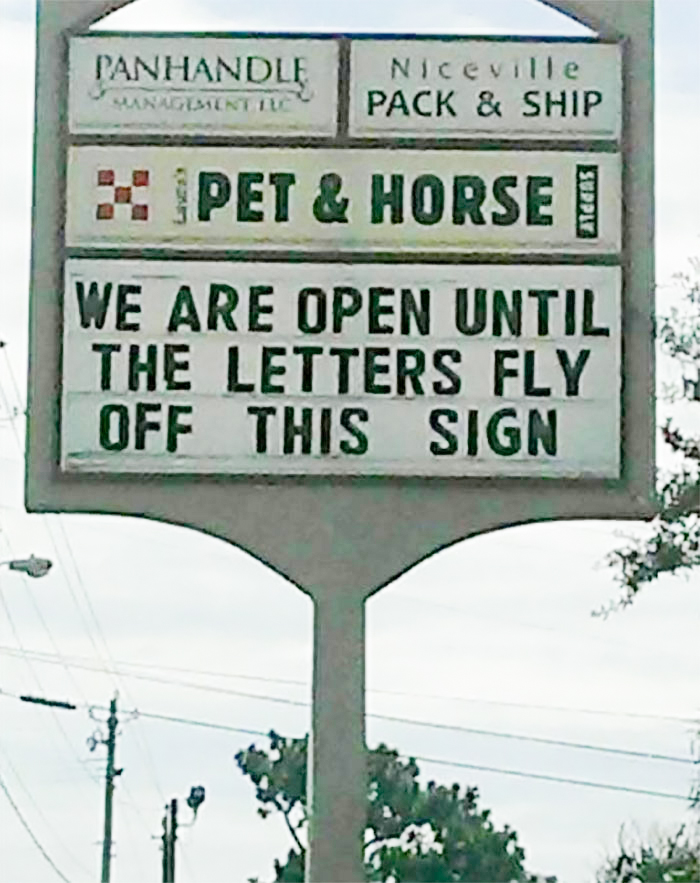 In the U.S., 40% of hurricanes that occur in the country hit Florida.
Interesting Florida Fact: Hurricane season in Florida is notoriously long and runs from June 1st to November 30th.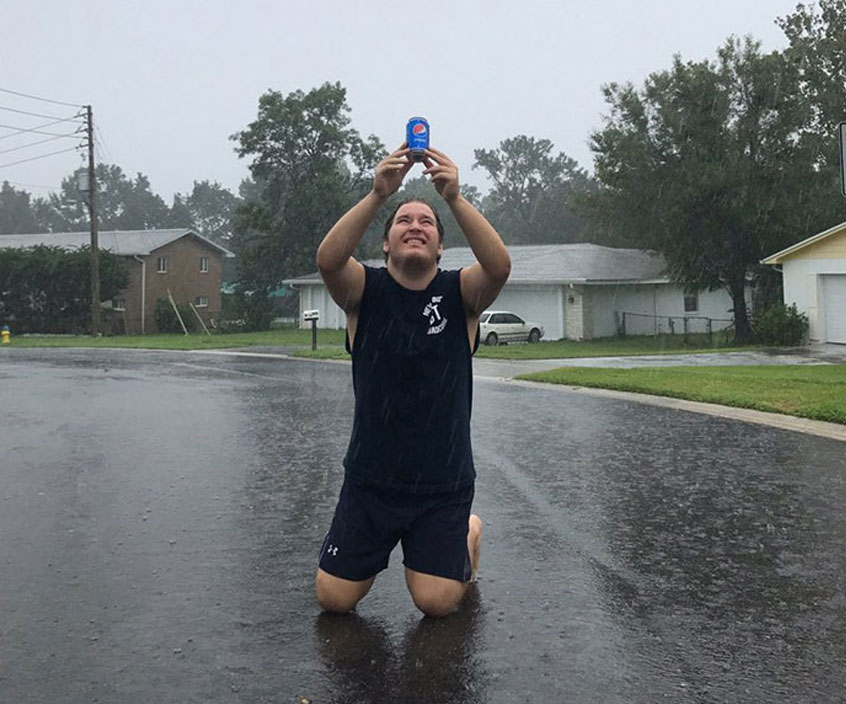 This man is offering a Pepsi to the Floridian gods to stop the hurricane. A Bud Light probably would have been the better option.
Interesting Florida Fact: A team of scientists at the University of Florida College of Medicine invented Gatorade in 1965. That explains the origin of "Gator" in the drink's title.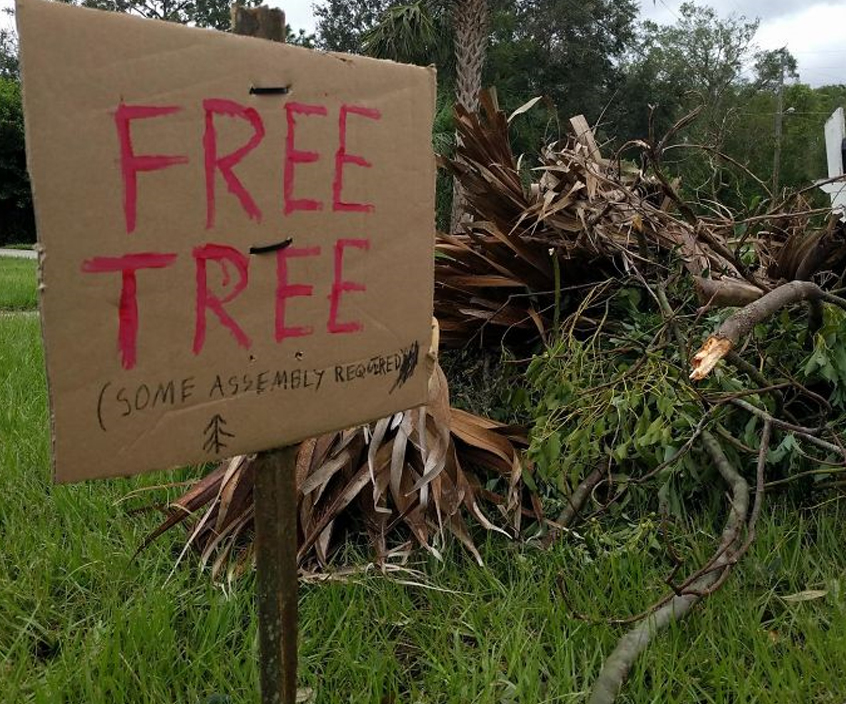 It's good to see that people still have a sense of humor, even in the aftermath of a tropical storm.
Interesting Florida Fact: Many palm trees in Florida are imports. Some native ones, however, include the buccaneer palm tree, paurotis palm tree, and the royal palm tree.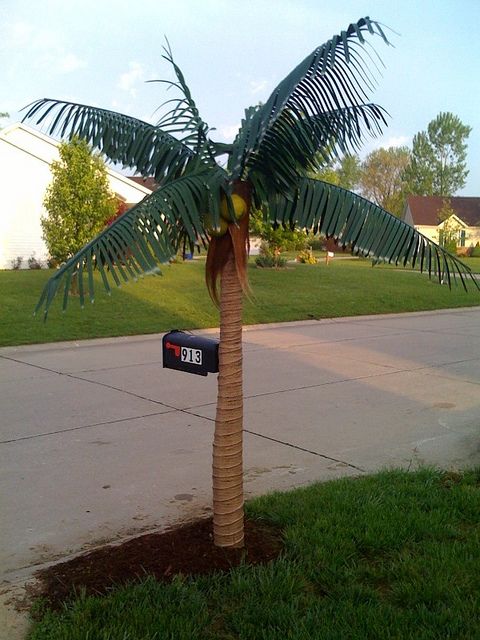 You might want to look again. That's a mailbox not a tree.
Interesting Florida Fact: Greater Miami lays claim as the only U.S. metropolitan area that has two national parks: Everglades National Park and Biscayne National Park.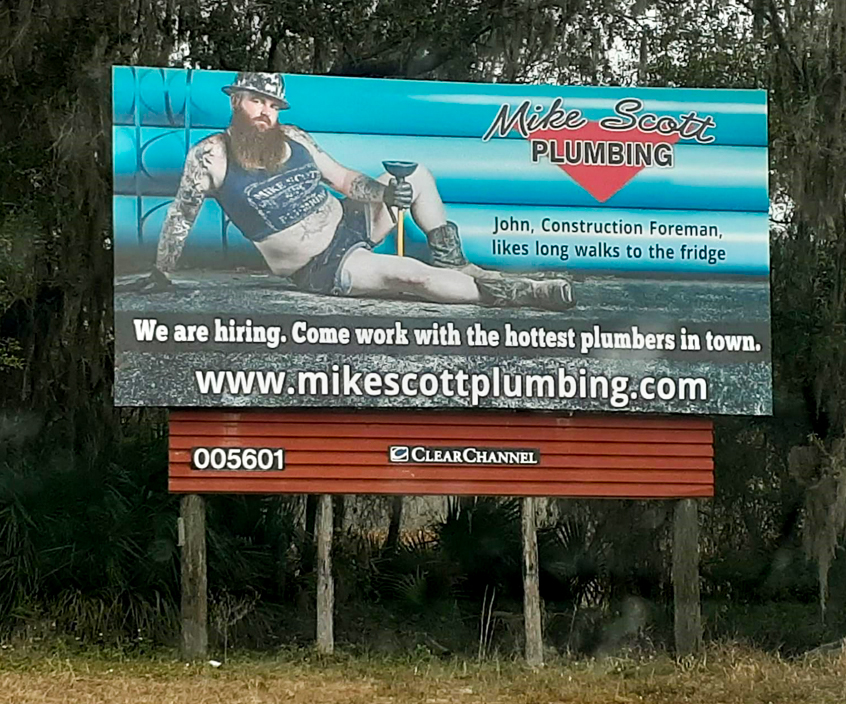 We imagine you will have to measure up to some undoubtedly enormous expectations if you work for this plumbing company.
Interesting Florida Fact: As of 2021, Florida has one of the largest economies in the world and ranks as the fourth-largest economy in the United States.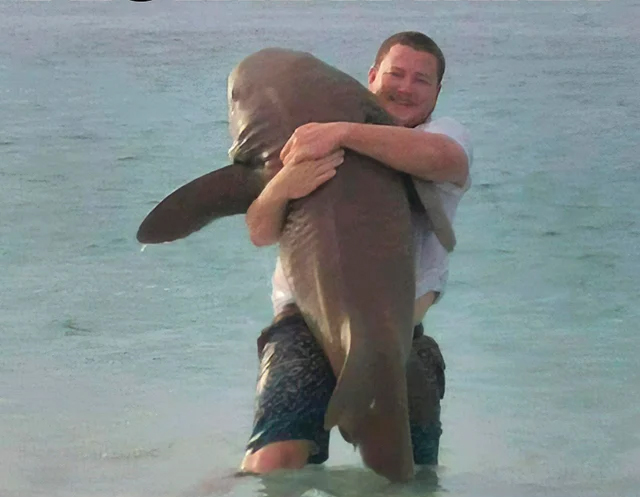 Nurse sharks are commonly found in South Florida, the Florida Keys, and the Dry Tortugas. Though not typically aggressive, they still have quite a bite. We would not recommend carrying them.
Interesting Florida Fact: In 2019, the dockside fishing market of Florida's commercial fishing landings was $221 million.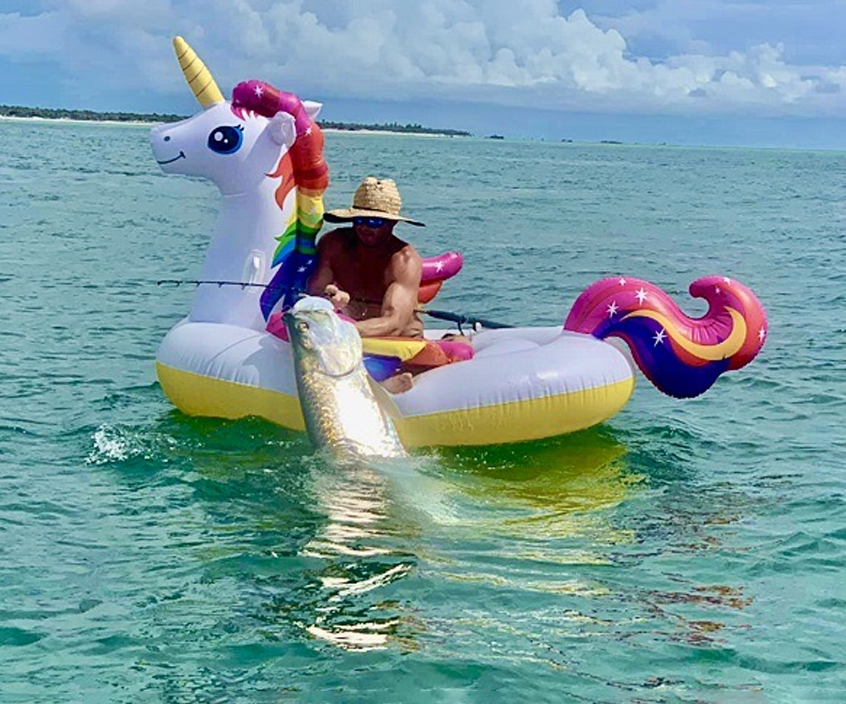 Jack Vasileros rode a rainbow unicorn float in 2020 and managed to catch a massive tarpon in Clearwater, Florida. The reasoning behind his choice of the vessel was he felt it was less intimidating to tarpon.  Hey, whatever works!
Interesting Florida Fact: Lionfish are an invasive species in Florida and may hurt local wildlife and habitats. As a result, the Florida Fish and Wildlife Conservation Commission (FWC) encourages lionfish removal and even holds an annual festival to stop them.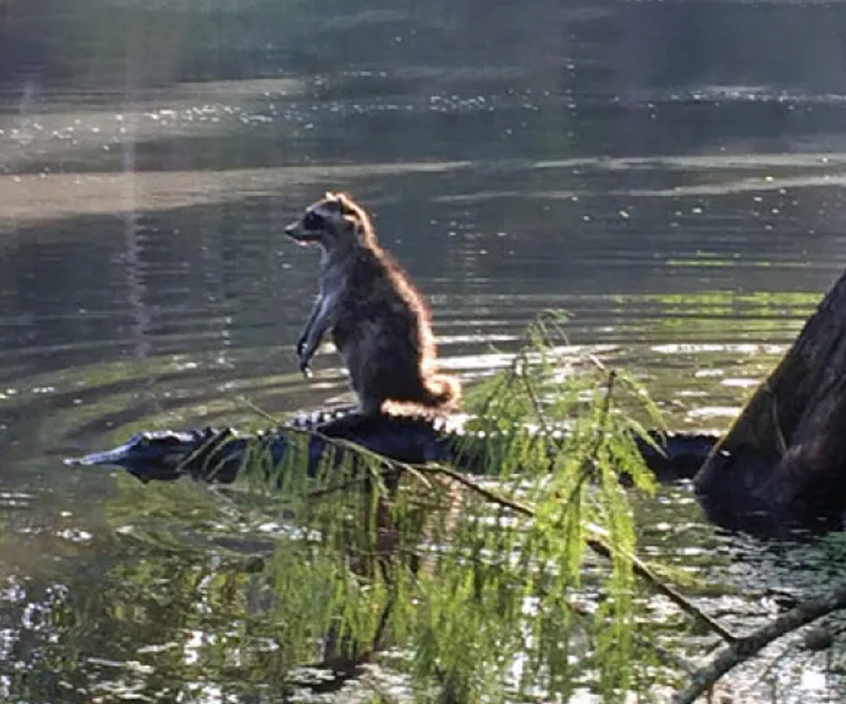 Richard Jones took this picture while he was walking with his family in the Ocala National Forest in 2015. He said his son startled a raccoon, and it rushed onto an alligator in the Ocklawaha River.
Interesting Florida Fact: Florida has more than 17 million acres of forestland, which includes 4.63 million acres of planted timberland.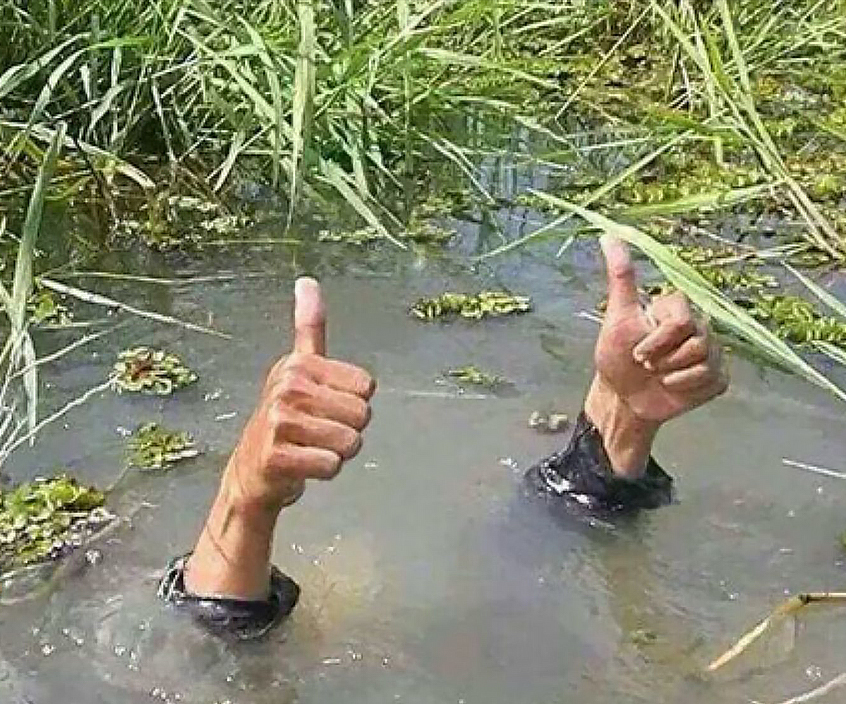 Everglades National Park is the 3rd largest national park in the United States behind Yellowstone and Death Valley.
Interesting Florida Fact: The first official European expedition to Florida occurred in 1513, led by Spanish explorer Juan Ponce de León.  He also gave the state its name.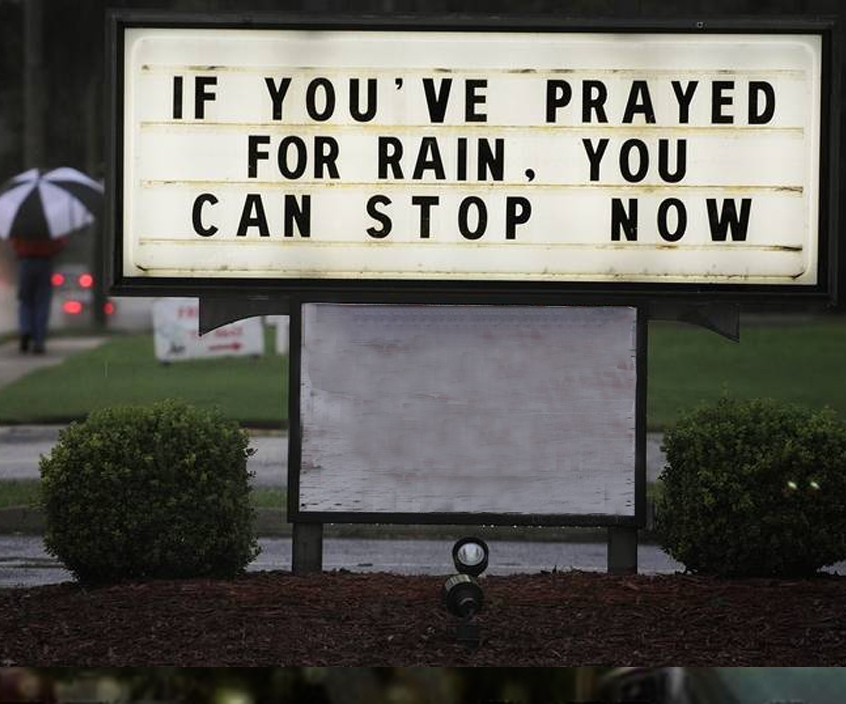 According to the Florida Climate Center, the state gets around 40 to 60 inches of rain per year, depending on the location.
Interesting Florida Fact: Southern Florida has defined a rainy season from May through October. The dry season goes throughout all of Florida, lasting from October to late April most years.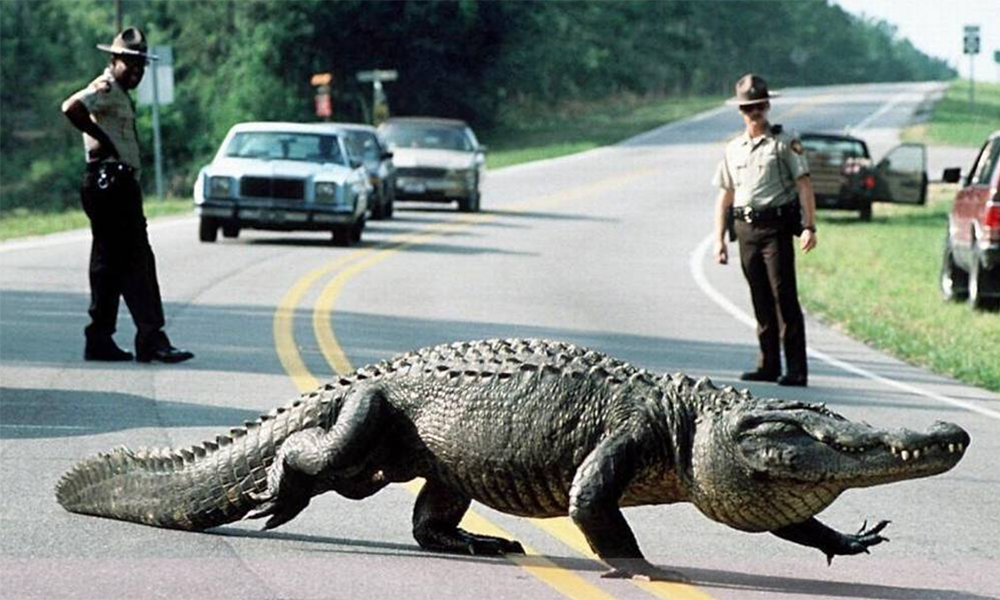 How about this massive gator? Look at neck on this one!
Interesting Florida Fact: Florida alligators live an average of 35-50 years in the wild. They have been known to live 60-80 years in human care.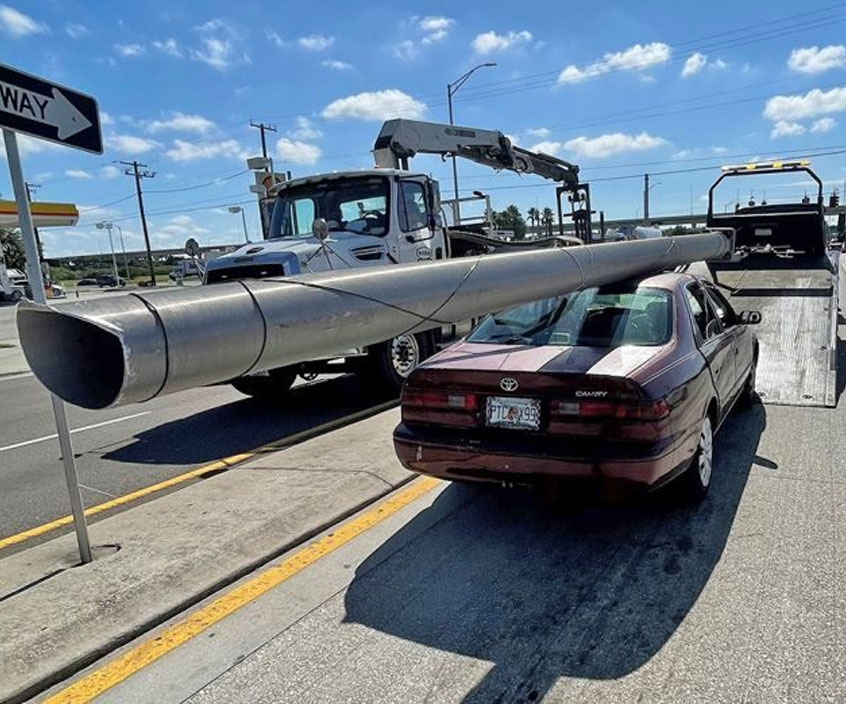 According to Florida Highway Patrol, this man took a downed metal utility pole and strapped his 1997 Toyota Camry. He planned to sell it to a scrapyard. How did he even manage to get this on his car is beyond us.
Interesting Florida Fact: With 747 square miles, Jacksonville is the largest city in the contiguous United States.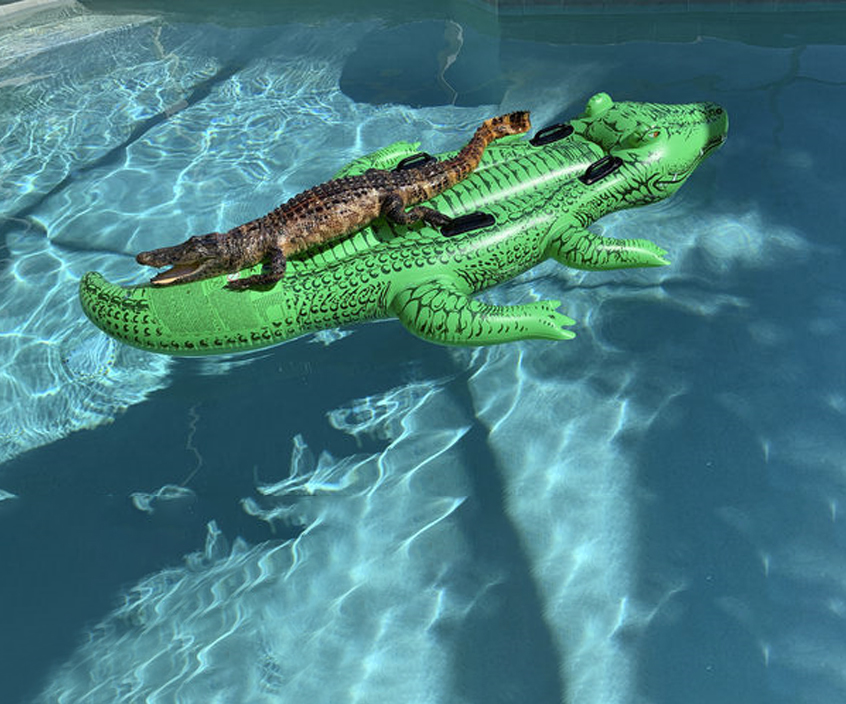 In 2020, a Georgia resident Dave Jacobs traveled with his family to Miami, Florida, for a wedding. At their Airbnb, they saw an alligator chilling on an alligator-shaped pool float. Jacobs's daughter describes the event as "so meta."
Interesting Florida Fact: Florida has the longest coastline in the contiguous United States at 8,436 miles.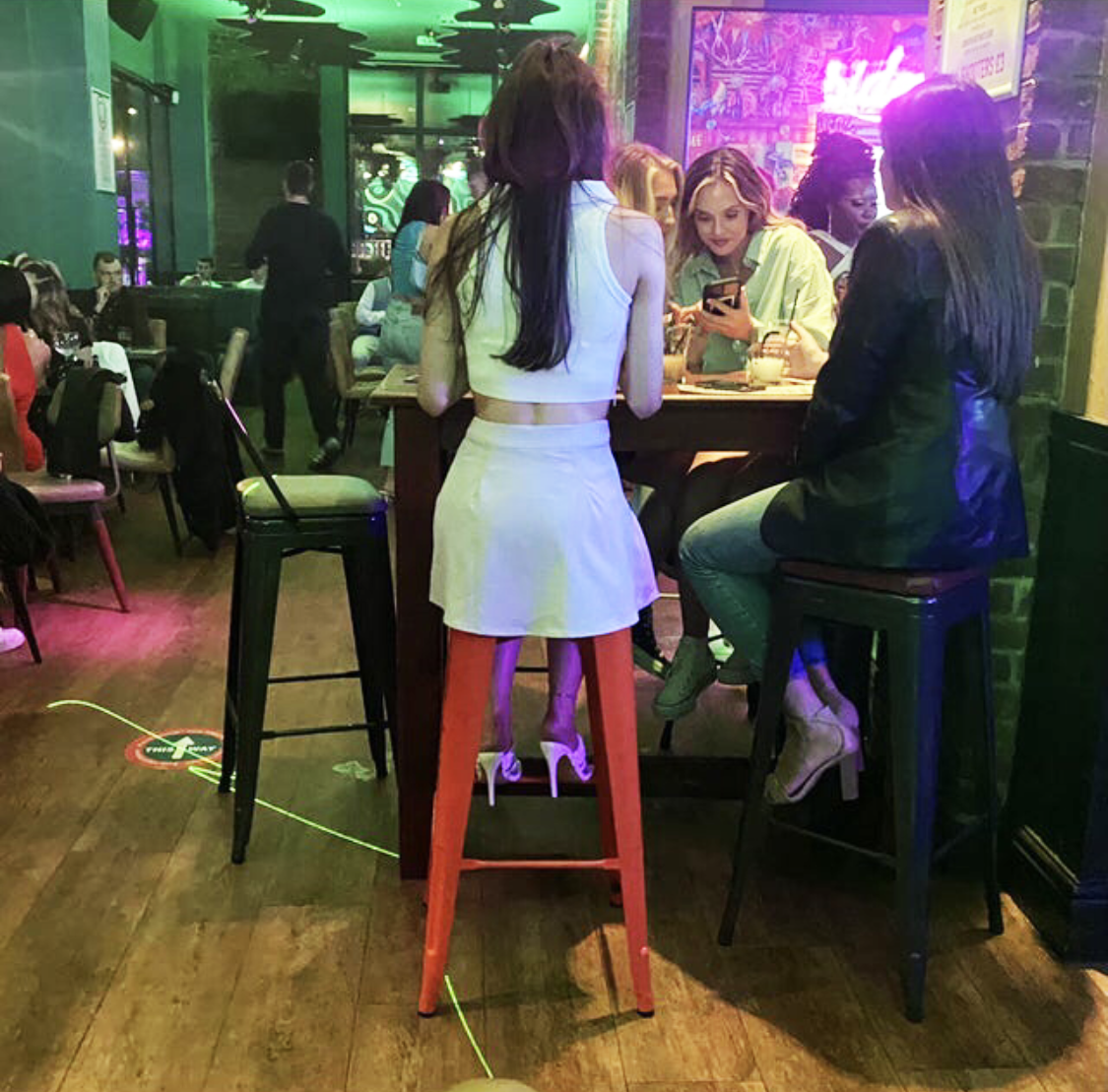 Nope, this isn't a woman on stilts.
Interesting Florida Fact: The Sunshine State is home to the Great Florida Birding and Wildlife Trail (GFBWT), a 2,000 mile-long collection of bird habitats in 500 locations throughout Florida.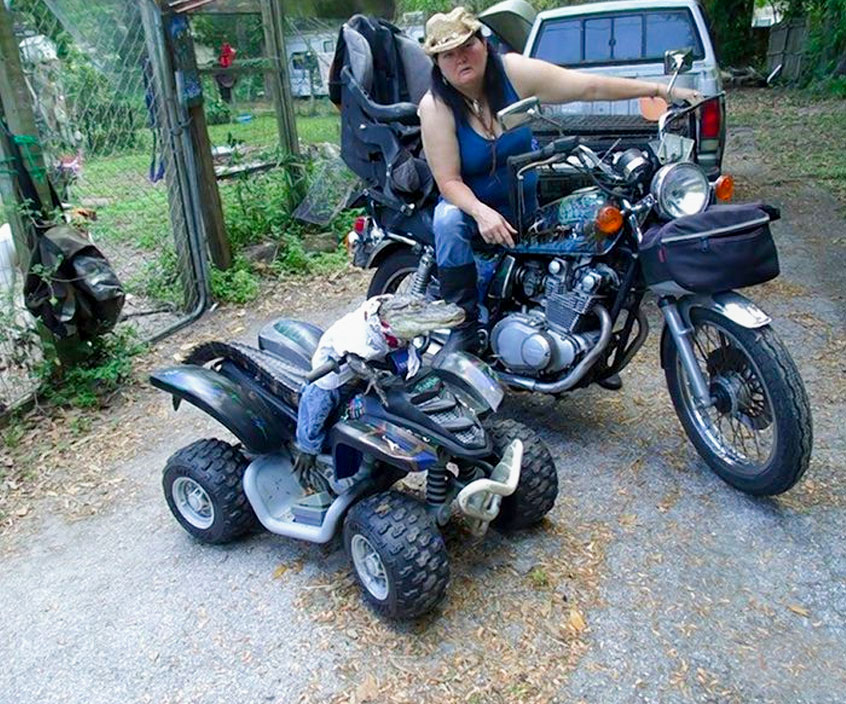 This Florida woman Mary Thorn got a license to keep her 15-year-old pet alligator, Rambo, in 2016. He apparently is extremely friendly, but we wouldn't want this creature sleeping at the end of our bed.
Interesting Florida Fact: The alligator is the official state reptile of Florida.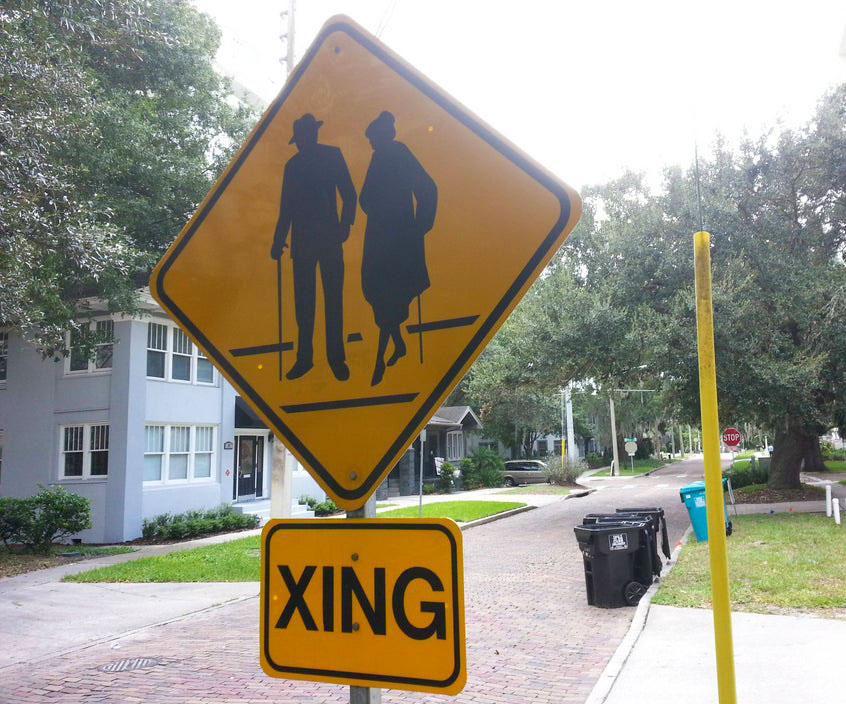 According to the 2018 census, around 930,000 people 60 and older moved across state lines. The data shows a net migration of roughly 70,000 in Florida, with 150,000 seniors moving in and about 80,000 moving out. The state was the most popular for net migration that year.
Interesting Florida Fact: Europeans settled and created St. Augustine in 1565. Some claim it is the oldest city in the United States.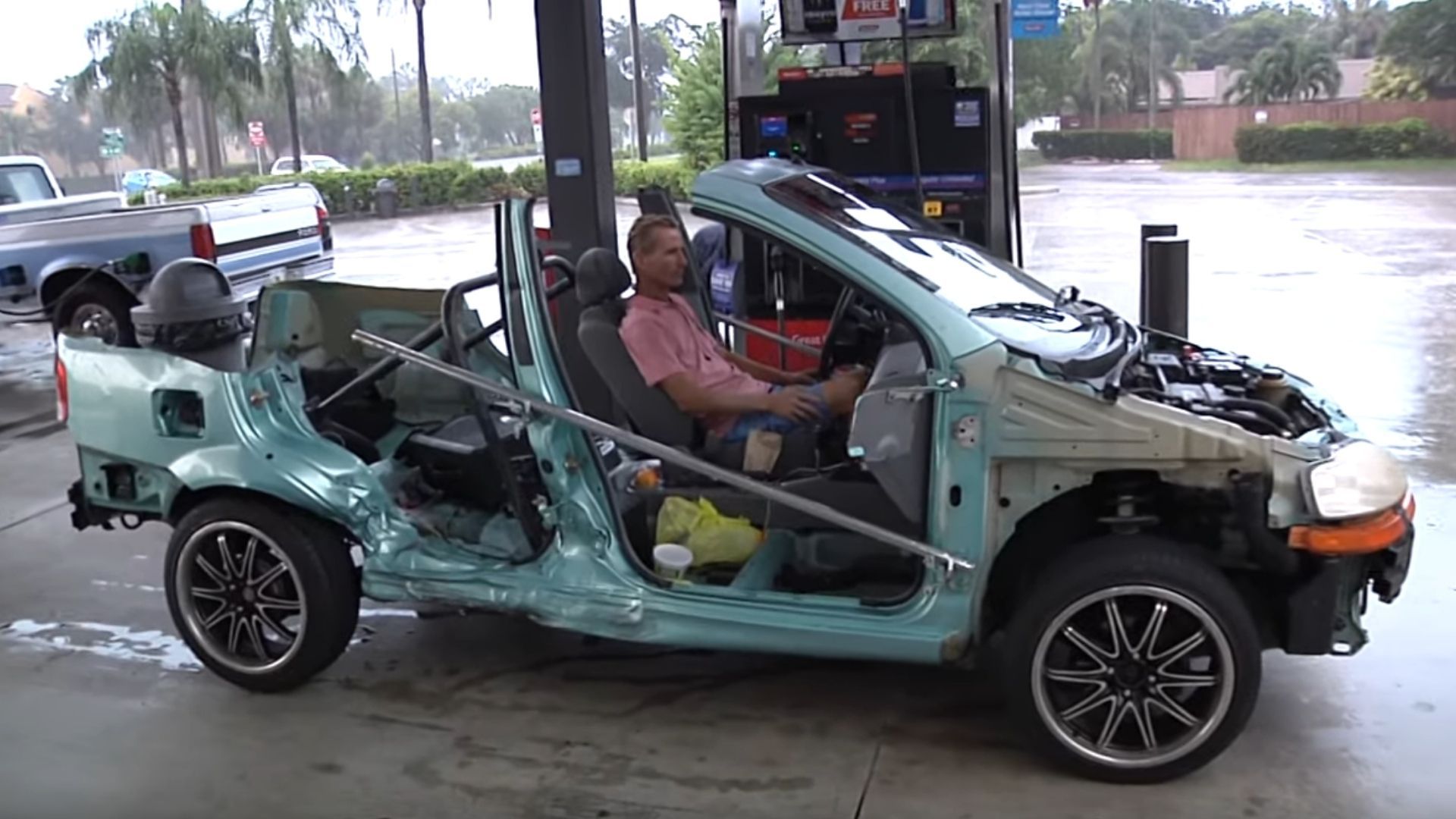 This Florida man bought a car with collision damage for a low price. He decided to chop it up and make the "ultimate" convertible. Instead of asking why he did it, the question should be, "why not"?
Interesting Florida Fact: On Aug 12, 1960, NASA launched their first communication satellite, Echo 1, from Cape Canaveral.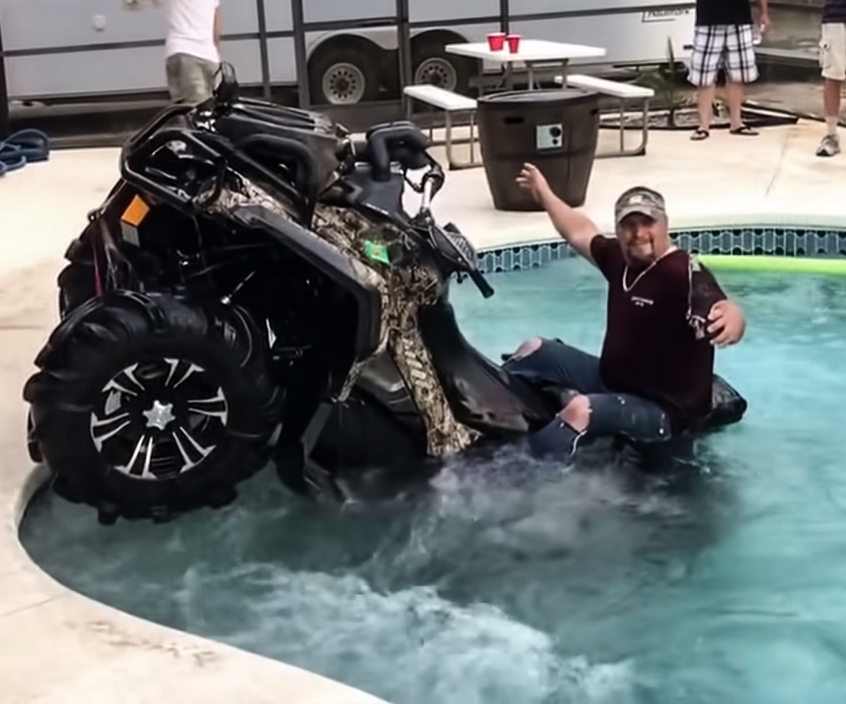 A Florida man decided to drive his Can-Am XMR 1000 in a pool by his house. All of his guests cheered.  Why is he doing this? Who cares. Enjoy the show, just to try this at your own home.
Interesting Florida Fact: Walt Disney World opened in Bay Lake and Lake Buena Vista, Florida, near Orlando and Kissimmee on October 1, 1971.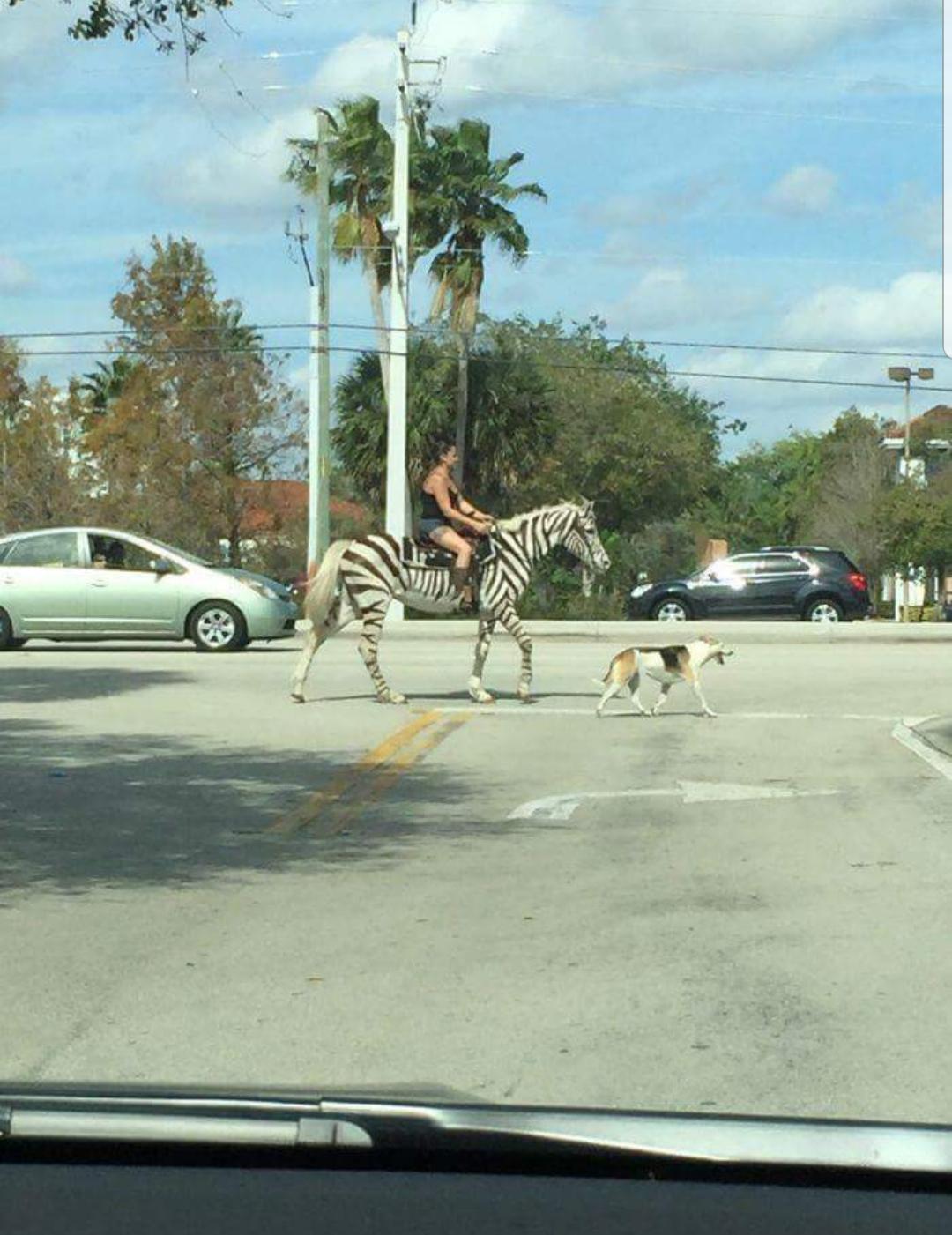 Have you ever seen anyone riding a zebra? Maybe you're not visiting Florida enough.
Interesting Florida Fact: Florida is the only state in the union to have an embassy called the "Florida House" in Washington, D.C.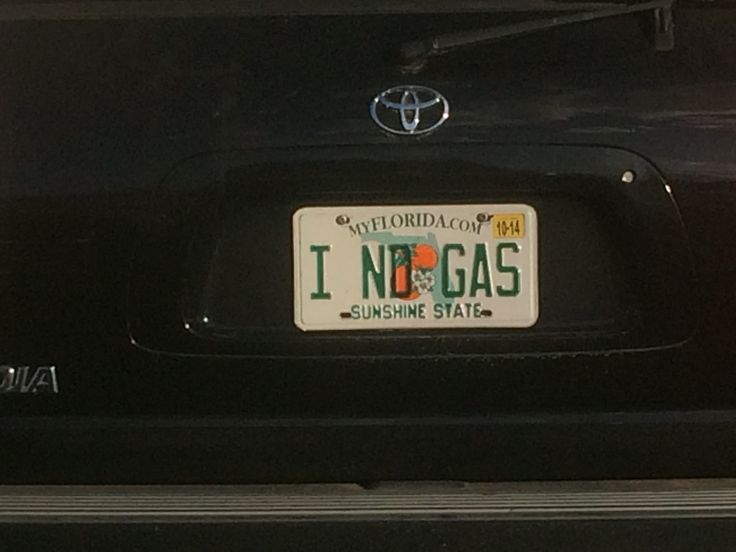 Nine-tenths of Florida's natural gas use is from the electric power sector.
Interesting Florida Fact: No dinosaur bones have been found in Florida since the state was underwater during the time they lived. You can, however, find plenty of shark teeth.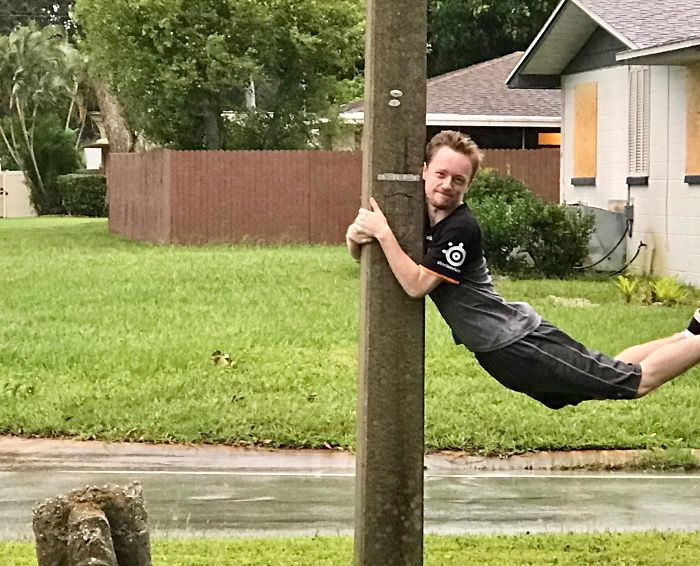 Apparently, the person in the picture is a Floridian's cousin from Pennsylvania who happened to be visiting when Hurricane Irma hit. As a joke, they staged this photo and sent it to his mom back in PA.
Interesting Florida Fact: Florida's average temperature ranges from 65 to 70 degrees in the north and 74 to 77 degrees in the south.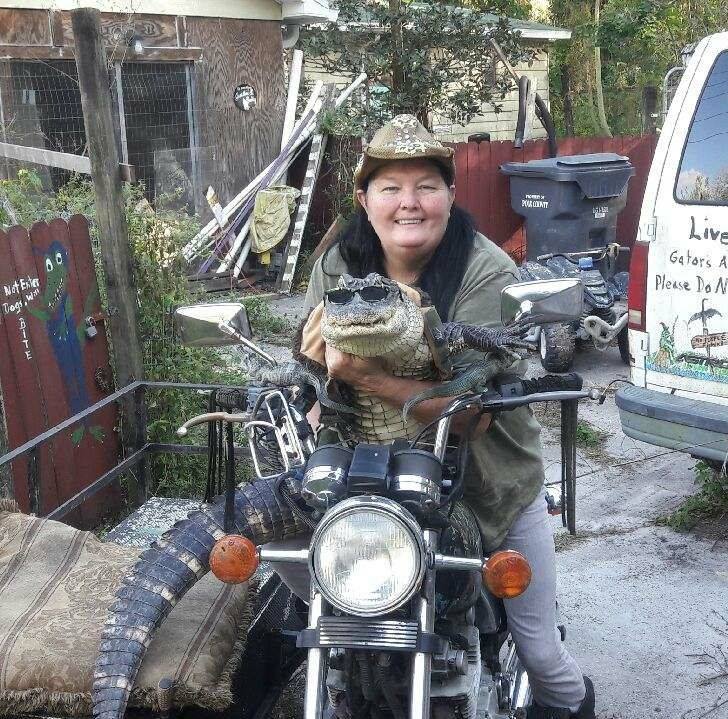 There are only two living species of alligator in the world, the American alligator and the Chinese alligator. The American alligator is obviously native to Florida.
Interesting Florida Fact: Pelican Island was the first National wildlife refuge in the United States, established on March 14, 1903, by Theodore Roosevelt.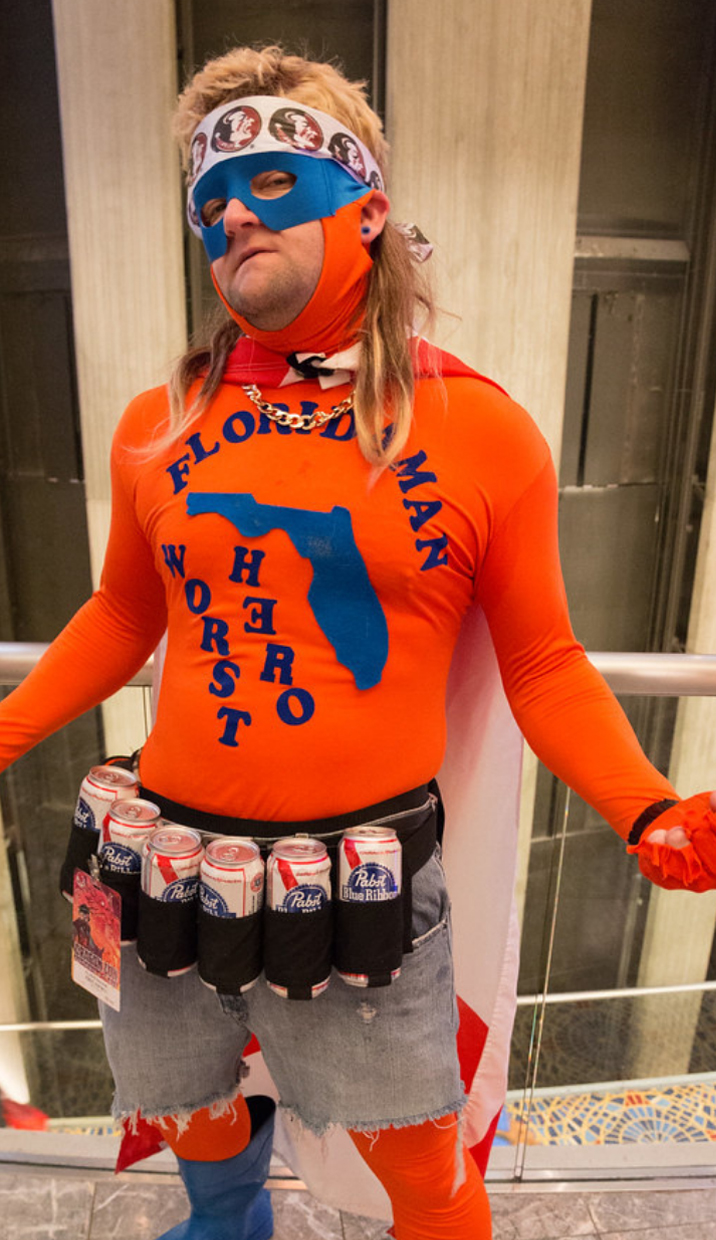 If Florida Man got a superhero movie, we would not be surprised if this was the costume the producers went with.
Interesting Florida Fact: Fifteen major league teams train in Florida. Spring training in the state dates back over 100 years.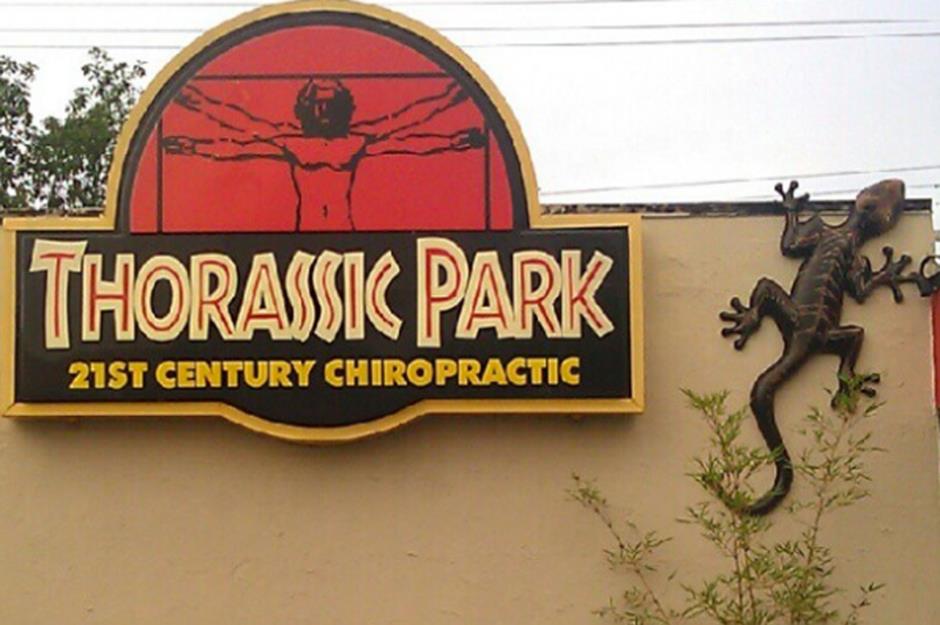 This is a chiropractor clinic in Bayshore, Gardens, Florida. The word "thorassic" is a play on the "thoracic spine" in the upper and middle part of the back.  This is a park we hope we don't have to visit anytime soon.
Interesting Florida Fact: The Battle of Olustee in 1864 was the Largest Civil War battle fought in Florida.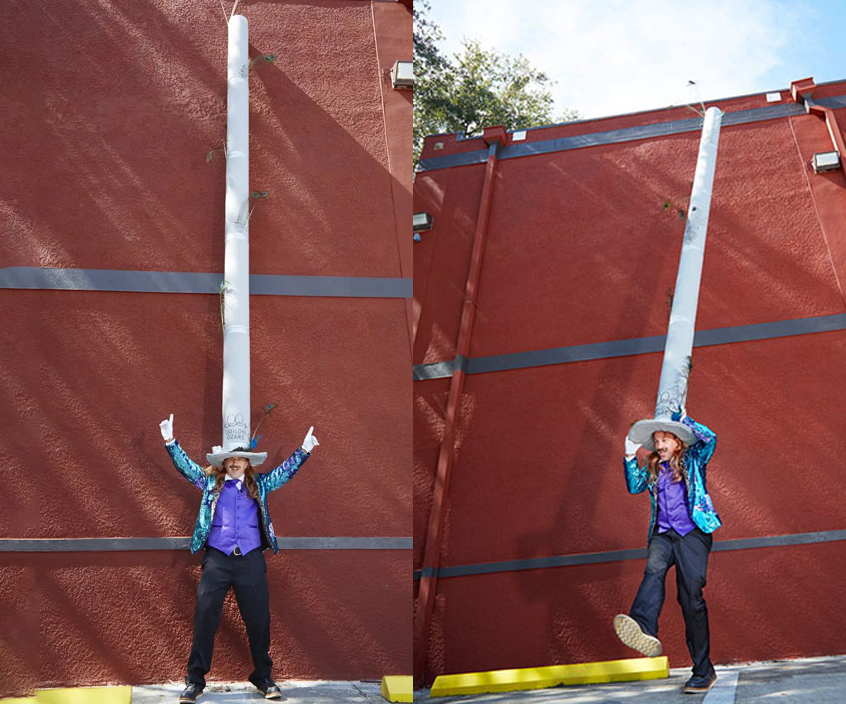 Tampa resident, Odilon Ozare, earned his first record in April 2018 for the world's tallest hat (15 ft 9 in). In 2020, he received the Guinness World Records for longest nail extensions.
Interesting Florida Fact: On Jan. 1., 1914, the world's first scheduled passenger airline service began operation from St. Petersburg to Tampa, Florida.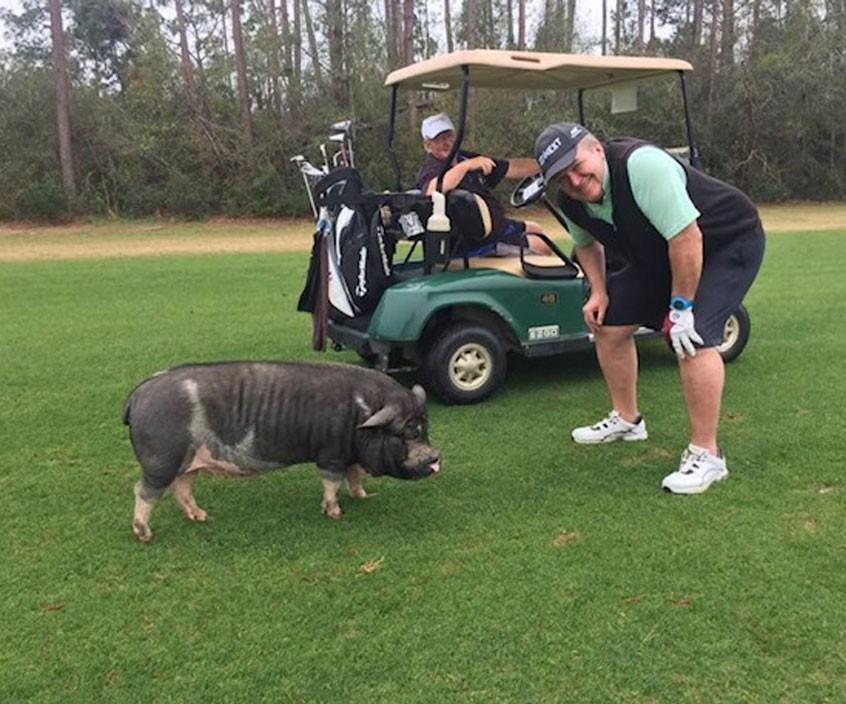 Thankfully this is not a wild pig. In 2010, a group of wild boars destroyed Sebastian Municipal Golf Course and damaged other courses on Treasure Coast. Though rare, pigs tearing up golf courses and lawns in Florida can be a costly problem if not dealt with quickly.
Interesting Florida Fact: Florida has around 1,250 golf courses, the highest amount in the U.S.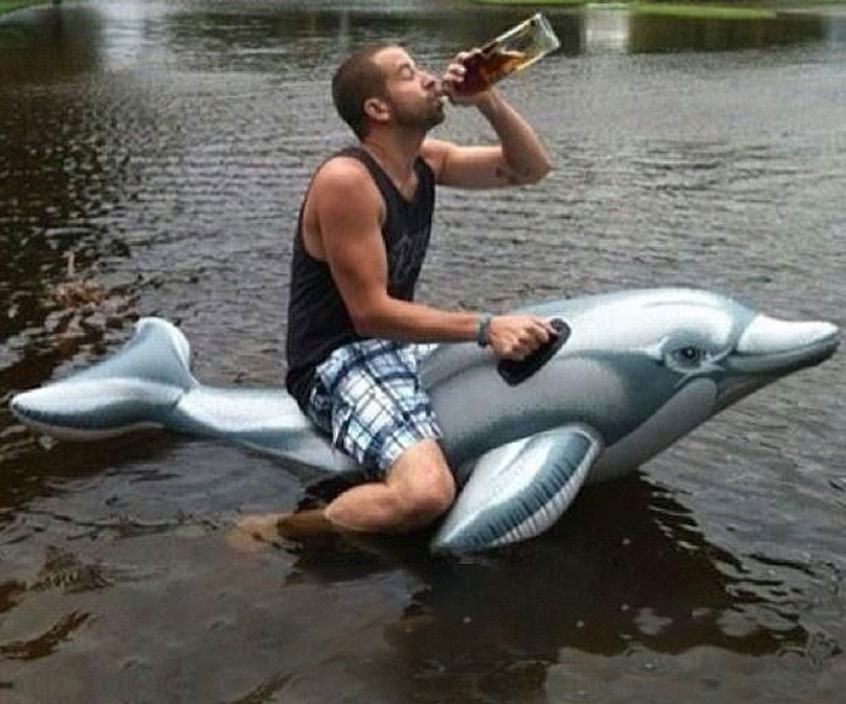 Did you know a typical hurricane can dump 6 inches to 12 inches of rain across an area? This guy seems to have the right idea.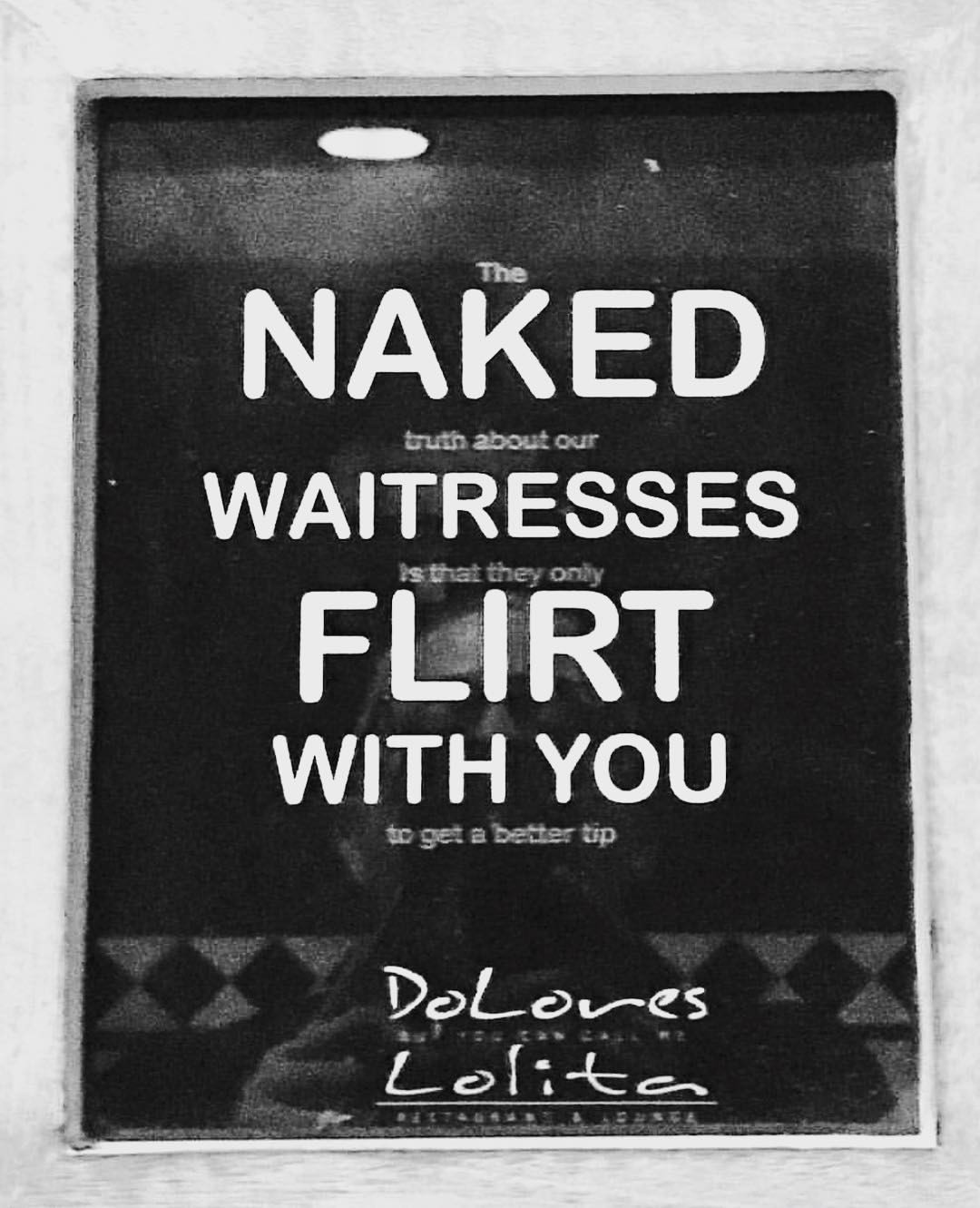 Here's a restaurant down in Miami that knows how to draw your attention.
Interesting Florida Fact: Sand beaches account for 1,100 miles of Florida's coastline.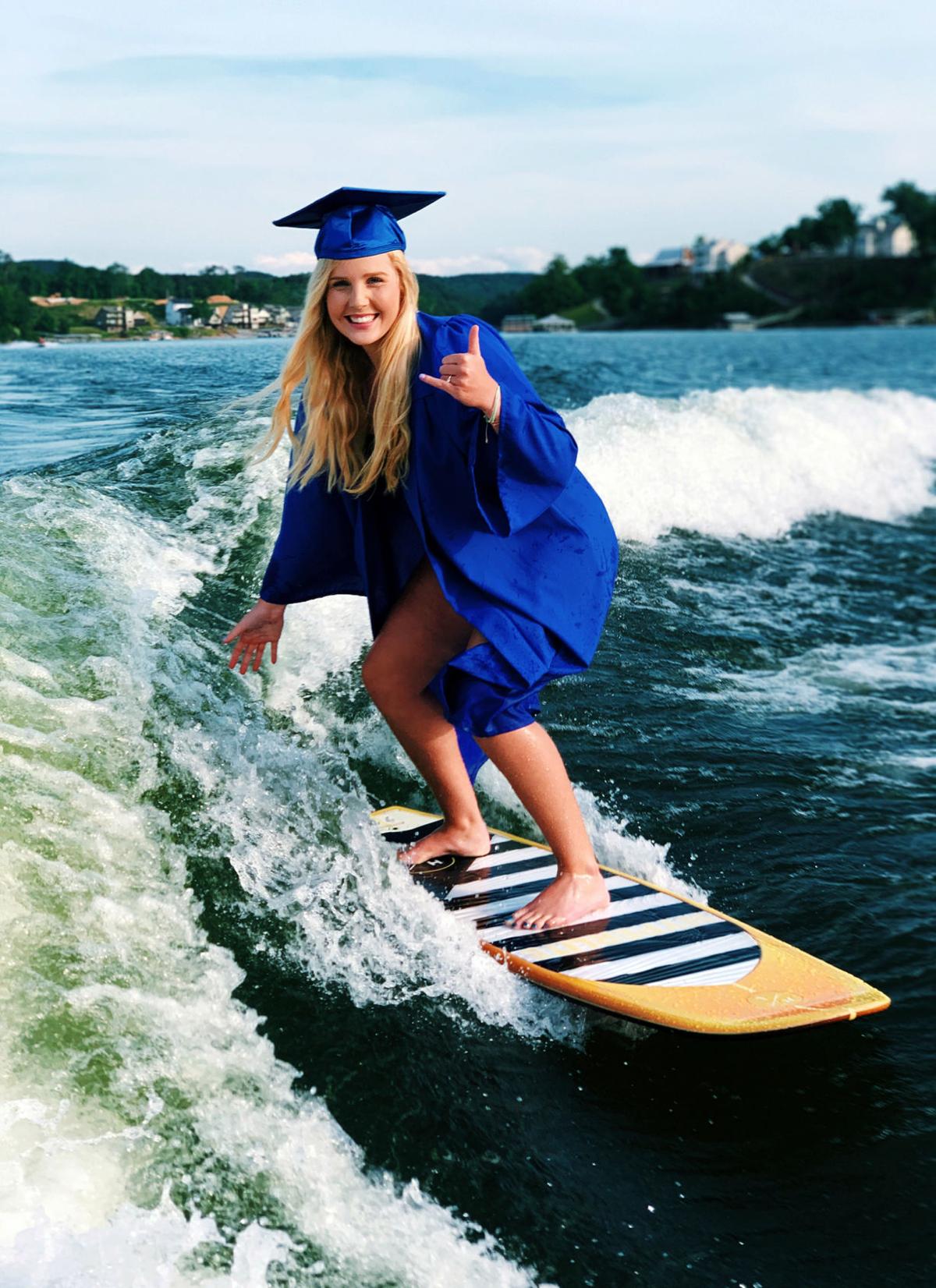 Here's a cool way to take your graduation photo. Only in Florida!
Interesting Florida Fact: In Florida, it is legal to swim with wild manatees in Crystal River as long as it is supervised.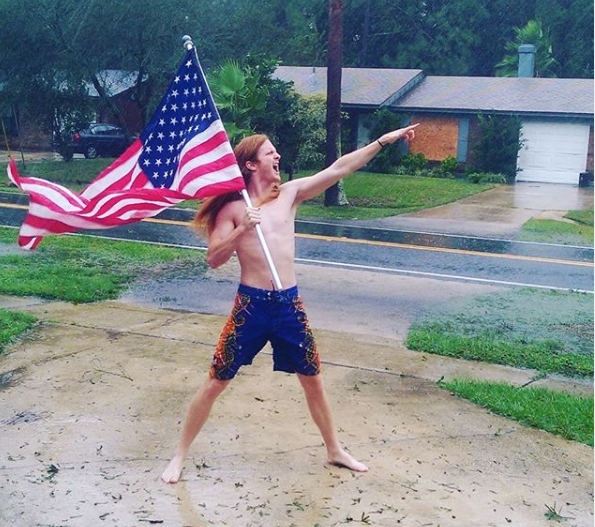 This is Lane Pittman. He is a resident of Jacksonville, Florida. He is famous for headbanging during Hurricane Matthew and Hurricane Florence. Most recently, he raised over $1000 to help people out in Hurricane Laura.
Interesting Florida Fact: Florida was acquired from Spain as a U.S. Territory in 1821 and became the country's 27th state on March 3, 1845.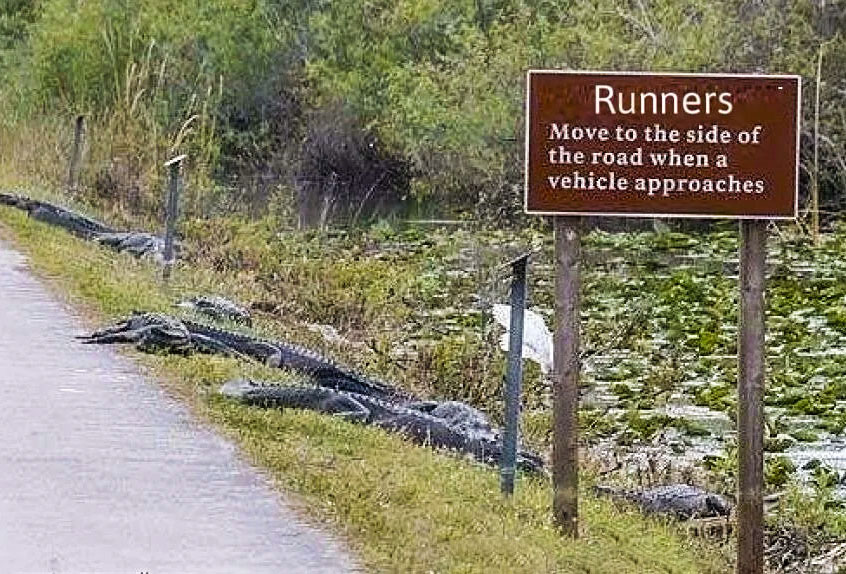 Yeah…we are not going to do that. If anything, we are not going near marshes or swamps in Florida in the first place.
Interesting Florida Fact: Florida Legislature announced Key lime as the official state pie in 2006.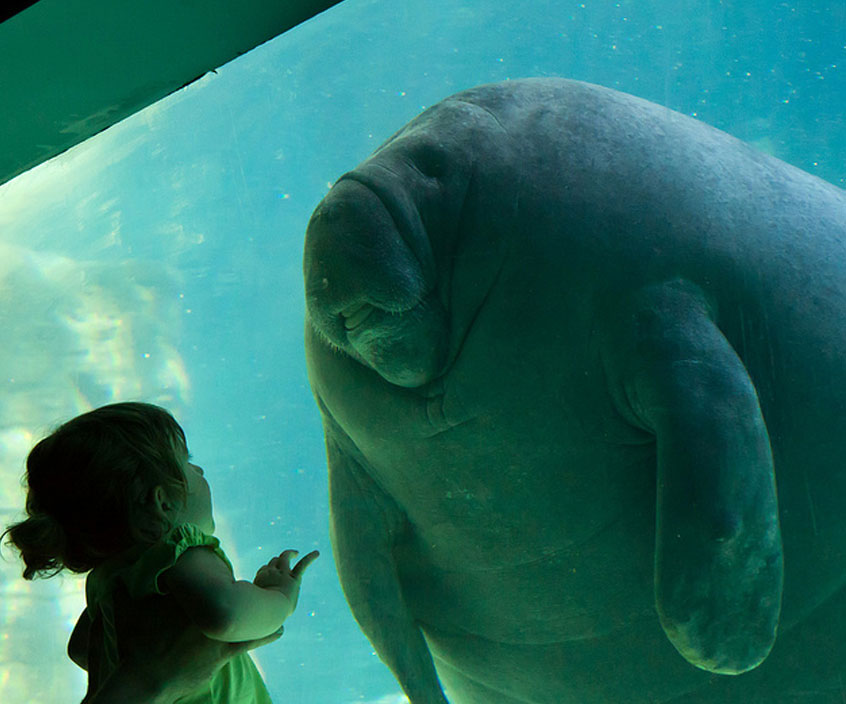 The Marine Mammal Commission states the population for the Florida manatee was revised in December 2018 and now estimates there are 8,810 manatees in the state.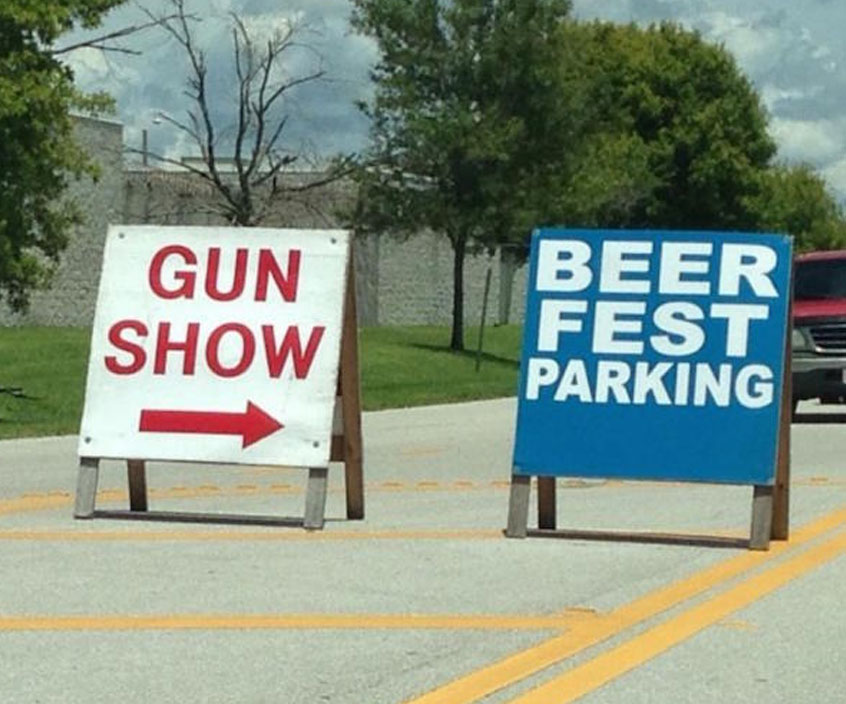 "Guns," "Beer Fest," "Florida," the headline basically writes itself.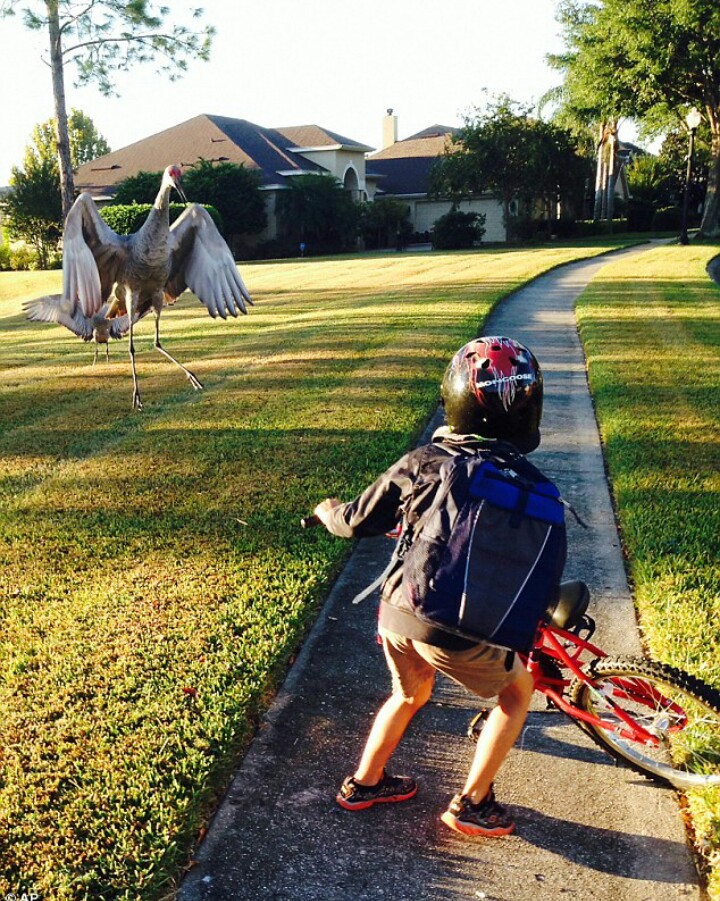 He was confronted by a 3-foot sandhill crane in Orlando, Florida. Luckily the boy was able to escape.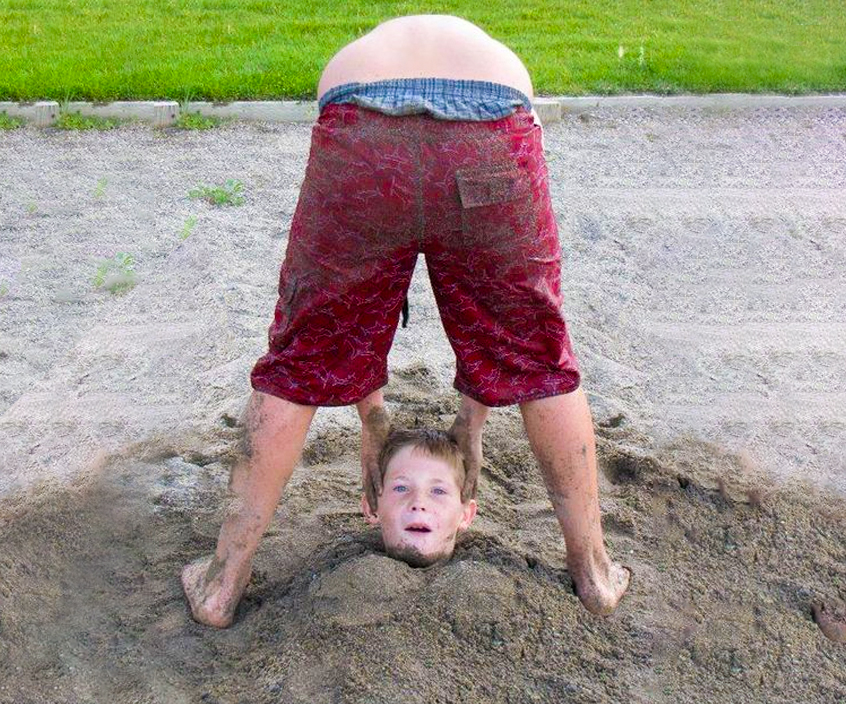 Talk about losing your head. In Florida, it is not uncommon to see people get creative on the beach.